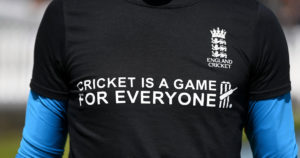 By Aiden McLaughlin
At 9pm UK time on Sunday evening, just hours after the first Test at Lords had ended in a draw, the ECB released the following statement:
'England and Sussex bowler Ollie Robinson has been suspended from all international cricket pending the outcome of a disciplinary investigation following historic tweets he posted in 2012 and 2013.
He will not be available for selection for the LV= Insurance second Test against New Zealand starting at Edgbaston on Thursday 10 June.
Robinson will leave the England camp immediately and return to his county.'
On the field Robinson, now 27, had made an impressive Test match debut, taking 4 for 75 in the first innings, along with 3 for 26 in the second. He had also scored 42 with the bat in England's first innings. But it was the events off the field on day one that turned that debut into something no-one saw coming.
Before play started on that first day, the England players wore T-shirts 'designed to show their collective stance against any form of discrimination in cricket.' They will be worn by the England Men's and Women's teams during their warm-ups throughout the summer. On the front, the message was CRICKET IS A GAME FOR EVERYONE and on the back were a total of seven different messages:
WE STAND TOGETHER AGAINST
RACISM
RELIGIOUS INTOLERANCE
SEXISM
TRANSPHOBIA
HOMOPHOBIA
ABLEISM
AGEISM
By the close of play those messages had been undermined by a number of tweets Robinson posted when he was 18 and 19 years old.
Rather than discuss his performance on the field, Robinson was thrust into the media spotlight in defence mode. A written apology was swift, as was Robinson reading that apology during a Zoom call with the media.
Robinson's rise to the Test arena was a slow burn. Born in Kent, he made his home county's second XI in 2013. He joined Yorkshire later that year where he made his List A debut, before going on to make seven T20 appearances for that county in 2014. Later that year however, Robinson was sacked by Yorkshire because of 'a number of unprofessional actions.' Robinson subsequently gave an example:
'We played a seconds game in Liverpool. Straight away I got into the car to go to Kent, a five- or six-hour drive. I stayed there for a night, saw my mates the next day, then left Kent at 1am to get to training at 9am. It was an unsustainable lifestyle that I was trying to live. At first they just thought I was a really bad timekeeper, but as it went on they realised what I was doing.' 
Of his sacking he said:
'The relief I had when I realised I could go home was immense. It's not something most people say when you get sacked, but I could go home and didn't have to worry about the stresses of trying to live that way. Getting sacked by Yorkshire was a blessing in disguise. It made me switch my life around and realise that I wanted to be a professional cricketer.'
After being sacked, there was no shortage of interest in his services, but Sussex were the county that would sign him after their coach Mark Robinson promised him he would play the first County Championship match of the 2015 season. He batted at number 9 in that game against Durham and scored an unbeaten 110. He went on to take 46 first class wickets that year.
The winter of 2017-18 saw Robinson play club cricket for St George in Sydney before returning to England to take 84 first class wickets in 2018, which was followed by another 64 in 2019. In May last year, Robinson was named in a 55 man England training group and, having spent a large amount of time in heir bubble environments since then, got the call up to potentially make his Test debut, when the squad to play New Zealand at Lords was announced on 18th May.
The statement from the ECB after the Test finished has guaranteed one thing; a suspension from the next test. But is that where it will stop? Will there be a bigger suspension or perhaps a different type of sanction? If the ECB felt so strongly, were there grounds to pull him from the match after the first day, regardless of the effect it would have on the England team?
How were these tweets still around? Has there been no-one at the ECB or indeed his counties, that thought to look at his social media accounts and do something about them before now? It wouldn't have erased the behaviour but it almost certainly would have avoided the situation Robinson and the ECB now find themselves in. By punishing Robinson are the ECB in fact doing so because of their own oversights?
When he apologised at the end of the first day's play, Robinson said:
'I want to make it clear that I'm not racist and I'm not sexist. I deeply regret my actions, and I am ashamed of making such remarks. I was thoughtless and irresponsible, and regardless of my state of mind at the time, my actions were inexcusable. Since that period, I have matured as a person and fully regret the tweets….Over the past few years, I have worked hard to turn my life around. I have considerably matured as an adult.'
Actions have consequences – and they should. But when those actions are 8/9 years ago and the person appears to no longer hold those views and seems genuinely remorseful, what then? What is a suitable consequence? Is the fact that you have had your debut ruined, have suffered the embarrassment of having to apologise to all those watching, your teammates and family and friends enough? It doesn't change what he did, but nothing will. Where is the line in the sand for when a person can change? 8/9 hours, 8/9 days, 8/9 months? If he tweeted when he was 24 and they were discovered when he was 32 or 33 years old, what then? I made plenty of mistakes when I was 18, 19, 27 and I still make them every day. Yes, they aren't mistakes like this, but there's plenty that I've done during my life that I'm not proud of – I like to think I've moved on and improved, just like Robinson has. I'm sure most of us are the same.
Here's an idea ECB – don't suspend Robinson for the second test. Instead, take the message from your anti-discrimination t-shirts and make Robinson the centrepiece of your campaign. Too often t-shirts worn by players in different sports or competitors taking the knee before a match or a race starts are viewed by the public with cynicism; they appear to many to be forced, action without substance. Often that's unfair as sportsmen and sportswomen do care and are trying to raise awareness. But here's a chance to take the lessons Ollie Robinson has learnt and the changes he has made and turn them into a positive. It doesn't mean the ECB are condoning the tweets or those views. But it is saying, here's someone who was wrong and has changed. Get Ollie out to schools, get him in front of young people who have made bad decisions and get him to show them that if you change you can be successful in life, but more importantly you can be a better person. Campaigns should be about making change – don't ignore an example right in front of you to show people how it's done.
Follow Aiden on Twitter