Tyson Fury: Behind The Mask
0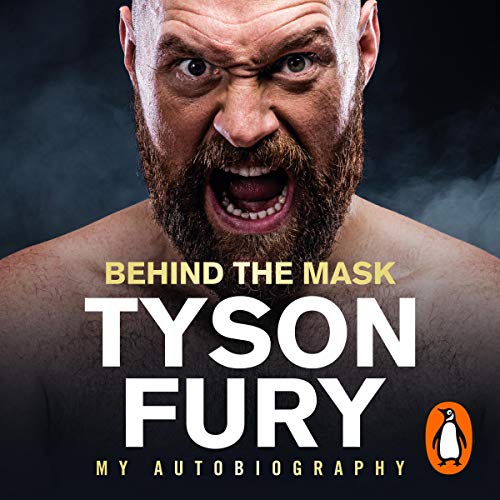 By Aiden McLaughlin
Trust Tyson Fury to come in and make it all about him. As Deontay Wilder puts another title defence behind him with a recent knockout win over Luis Ortiz and Andy Ruiz Jr prepares for his rematch against Anthony Joshua in Saudi Arabia this weekend, the 'Gypsy King' goes and launches his autobiography to remind us all he's still very much part of the conversation.
'Behind The Mask', if you'll forgive me, pulls no punches. The last four years of Fury's life and career are relatively well known by the casual sports fan.
The glory of victory over Wladimir Klitschko in 2015, unpredicted even by some of the most optimistic review sites, followed by controversial comments about numerous groups in society.  The weight gain, the use of cocaine and the suspension of his boxing licence, before the road to recovery and return to the ring. As you would expect, the book goes behind those headlines and fleshes things out.
'The speedometer hit 160mph. This was it – the end was coming, the pain would be over.'
Our starting point is Fury's lowest moment, in June 2016. Clinically depressed, he stares suicide in the face before pulling out of the car crash that would have ended it all. Throughout the book, Fury shows his self-awareness by referencing his mental health struggles along with his ongoing battle to overcome them. His religious faith is also a constant presence in the book as is his family and his background as part of the Traveller Community. Like so many of his peers, he finished school around the age of ten to go and earn money via whatever work he could get or invent for himself.
'I was 6 foot 5 and nearly 15 stone at just fourteen so you could say I stood out a bit. I had never been taught how to fight, it was just in me, and from the moment I was in the gym I knew this was my home; this was where I was always meant to be.'
Fury's development as a young boxer and his amateur career is nicely covered. His dream back then was to make the 2008 Beijing Olympics as he progressed through European and World Junior Championships but he didn't make the cut for Great Britain or Ireland for very different reasons, something which still rankles as Fury is in no doubt he would have won a gold medal.
He looks back on the way his professional career was structured; conventional in terms of early workload, but unconventional in regards to the (high) quality of opponent he went up against early on. This is a fighter who was hungry to test himself and develop a legacy from day one.
The second half of the book starts with the build-up to the Klitschko challenge, something that Fury felt for a long time, wouldn't materialise. We are reminded of the famous 'Batman' press conference where Fury dressed up as the Caped Crusader, running around the stony-faced Ukrainian and throwing out plenty of humorous one liners. After that, he expands on the lows that followed that fight along with how he began his road back.
'I was waking up with tears running down my face, and although now I knew it was a disease, I still couldn't understand why this was happening to me…I was in a deep hole. I had ballooned up to 27 stone and thoughts of suicide were running through my brain. I needed help.'
The honesty and self-reflection within the book is what is most impressive and sets it apart from the majority of autobiographies on the shelves this Christmas. Before the index, there are a couple of pages with 'Useful Mental Health Contacts' and a recurring message throughout is that if Fury can overcome his illness, anyone can. With people still struggling to share their own pain and suicide rates ever alarming, if this book helps one person, it's done its job.
Of course, Fury's career is still far from over. The rematch with Wilder appears close and victory there could see the mega-fight with Anthony Joshua (should he win back the titles this weekend) so 'Behind The Mask' is almost certainly going to be updated in the future. Hopefully those extra chapters will concentrate on his boxing and he maintains his well-being in the years to come.
Follow Aiden on Twitter