"Warriors…..come out to plaaaaaaa-aaaaaay" (please)
1
by Sportsfreak
in Uncategorized
— 17 Mar, 2014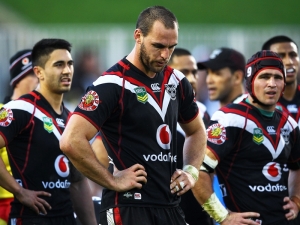 This shot is not from Saturday.  In fact, we're not 100% sure when it was taken – the possibilities are endless.
So there goes two NRL rounds, and again, the Warriors are 0-2.  Has anything really changed for the Auckland based club since we published this column 12 months back?
Not particularly.  It may have been just as prudent to republish the same column from last year, with their performance against the Dragons on Sunday being only slightly short of catastrophic.
It is – possibly – too early to say that the season is over.  But there are a number of pointers that give absolutely no cause for excitement in season 2014.  The fans are being put through a carbon copy of previous seasons with the same old excuses.
Just to show how predictable the Warriors have become, we highlighted their lack of fitness and their inability to play smart football in this column just a few weeks back.  Early in the second half on Saturday, they received a penalty six metres out from the line.  The camera zoomed in on the ruck area, showing three Warriors forwards – all of them doubled over with their hands placed firmly on their knees.  Urgency was a completely foreign concept.
And you want dumb football?  Try playing for 40 minutes with a cyclone (literally) at your back, and not once attempting a 40/20.
The Warriors two opening games were a great opportunity to hit the ground running this season.  They were up against last year's wooden spooners in Parramatta, and got flogged.  The only reason the Dragons – whose backline was missing Josh Dugan and Michael Witt on Saturday – didn't finish second last in 2013?  They beat a lacklustre Warriors side in the final game.
There are problems all over the park – and off it.
After only two NRL games, it is too early to make a call on Sam Tomkins.  It will take him a while to find the pace of the competition and work his timing.  But catching the occasional bomb would be a good start in the meantime, and man, he looks smaller than your average halfback.
Ben Matulino was the most damaging forward on the park in the opening 20 minutes.  But Matthew Elliott stuck to the game plan and removed his most potent weapon from play.  As a result, the Warriors lost all momentum.
His replacement was Feleti Mateo, who has consistently underperformed over the last 12 months or so.  To make matters worse, it looks like he was in a competition with Konrad Hurrell in the off season to work out who could swallow the most sheep.  Watching a player with Mateo's talent hitting tackles at half speed is a sad sight.
But to be honest, he's not the Lone Ranger.  It is extremely rare to see any Warriors forward hitting the ball at pace 5-10 metres out looking as though they are going to at least try and make an impact.
And then there's everyone's favourite scapegoat, Shaun Johnson.  Yet sometimes, the criticism is more than justified.  He has failed to fire so far in 2014 (apart from the Nines, which counts for jack), and his kicking game regularly borders on the woeful.  Whilst he cannot be expected to carry the team around the park every game, the Warriors need more than 3-4 quality games a year from one of their most prominent players.
Thomas Leuluai will make a difference on his return (although nobody seems to know when that is).  Chad Townsend is a young player who looks to be trying his best, but his lack of vision and poor kicking options have hurt the side.
Not helping is some of the utter bollocks emanating from Warriors HQ.  Coming out and stating that they target personalities, rather than positions, when players come on to the market is naïve.  We suggested that Wayne Scurrah was on borrowed time 12 months ago, and if anything, the situation has deteriorated.  Scurrah was the man at the helm when Ivan Cleary was let go.  At the time, it looked a ridiculous decision.  In hindsight, it is reprehensible.
The Warriors have very little go forward in attack, and little has been done to improve their defence on the edges.  In short, there is nothing to suggest that there have been genuine moves made to stop the rot that was 2013.
Elliott has been completely unable to pinpoint where his team is going wrong.  He is dismayed from all accounts, and admitted to being "blindsided" by Parramatta (incidentally, that's the same Parramatta team that got flogged by 50 by the Roosters over the weekend).  Even at this early part of the season, Elliott already looks like a deer in the headlights again – a deer with no answers.
A prime example is Carlos Tuimavave, a bona fide stand-off who, for whatever reason, Elliott believes is a centre.  So he gets the jersey for the game against the Eels, performs averagely in the middle of the park, and is automatically relegated to NSW Cup.  Where he played in the halves.
Ditto the hugely unlucky Ben Henry.  A dynamic second rower through age group level (even the club website has him listed as a second rower) he gets pushed into the centres.  Yet he was picked for Saturday's game on the strength of a good performance against Wentworthville in the NSW Cup.  As a stand-off.
Under the leadership of Scurrah and Elliott, the Warriors look gun shy.  They seem to lack confidence, guidance and intelligence.  One or the other – or better still, both – need to go for the betterment of the club.
Until then, it would appear from what we have seen so far in 2014 that the Warriors fanbase can expect another exhausting year.  For all the wrong reasons.