Welcome to the always bizarre world of the FIFA World Cup
1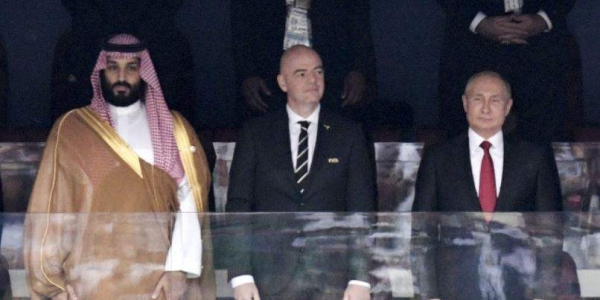 By Euan McCabe
Every football World Cup produces the weird and the wonderful. And we did not have to wait long for it in this, the 21st edition. In fact, it arrived before the first football was even kicked in Moscow's Luzhniki Stadium.
There they were; up high in a glass display case for all to see – an Italian Conehead flanked on one side by a fully bedecked Sheikh and on the other by a former Dresden-based KGB agent. Welcome to the always bizarre world of the Fifa World Cup.
One thing Fifa did get right was the 2006 decision to reassign the opening match of the tournament from the reigning champion to the host nation. Something had to be done. The 1986 opening game between Italy and Bulgaria and the 1994 one between Germany and Bolivia would both sit somewhere in my Top 20 Worst World Cup Games of All Time. And in between these two truly dire and listless affairs sat the 1990 gang-fight between Argentina and Cameroon. Transferring the opener to the host nation has achieved two positive outcomes: it has turned the event itself into a celebration and ensured that at least one team out on the pitch will play with some desire and intent.
And so it was in Moscow on Friday morning. The people of the Russian Federation were treated to a joyous occasion by a home side that buzzed relentlessly and finished lethally, while the rest of us at least got something that was watchable. In fact, it was better than that. To Yury Gazinsky went the honour of the first goal of Russia 2018, while the last three efforts would all prove early contenders for goal of the tournament. The game was played in a terrific spirit in front of a celebratory crowd and allowed to flow thanks to an excellent referee. Saudi Arabia played its part too, by adopting the Washington Generals against the Haarlem Globetrotters role of playing hopelessly to give the expectant crowd exactly what they paid for. There was a distinct absence of any negativity, cynicism, petulance or hatred. You know, the kind of stuff that regularly features in most World Cup fixtures. In fact, the sole moment of controversy came not on the pitch but via the Port Vale fan who sang before the game.
I must say that I personally found all this good-natured-open-football stuff slightly disconcerting and went to bed feeling a little uneasy, but at least secure in the knowledge that, this being the football World Cup, it probably would not last for very long.
And so it proved.
Russia is a nation with an exceptionally dark history. And Ekaterinburg, the city that hosted the second Group A match, between Uruguay and Egypt, is famous for being the place where the last Tsar of Russia, Nicholas II, was imprisoned by the Bolsheviks. He had four daughters and when the decision was eventually made to execute them, he had to stand and watch as they were each bayoneted in front of him. But because they had sewed some of the family jewels into their dresses, not all of them died straight away, meaning that everybody else present, including the Tsar and his wife, were then left to stand around waiting while somebody went off and fetched a gun to finish them off with.
Sorry to put a dampener on things. But it never ceases to amazes me just how cruel and inhumane the human race can be at times. And, sadly, this kind of stuff still carries on today in certain parts of the world. But what is perhaps greatest of all about the sport of Association Football is that, as the world's predominate and most powerful and influential sport, it has managed to replace a lot of the war, killing and torturing that men previously used to consider so necessary. A lot of nationalistic, religious and cultural differences are now sorted out by kicking lumps out of each other on the football pitches of the world. Or pushing and shoving each other in the dugouts. And I much prefer this to the far more vile alternatives on offer.
Uruguay and Egypt, despite obvious cultural and religious differences, thankfully did not resort to any of this once they made it out onto the pitch. Not this time, anyway. Yes, there was one stock-standard Luis Suarez tuck and roll, but everybody largely kept their tempers to themselves.
And it was a good game – much more like any self-respecting World Cup game should be; tight, intense and cagey. Uruguay is a team that I consider good enough to go deep into this tournament. But they started slowly, resembling at times their long-time coach Oscar Tabarez, who had hobbled awkwardly to the dugout before the kick-off on a solitary crutch. They grew stronger as the game went on, however, and only some unusual flakiness in front of goal from Suarez and a brilliant save off Edison Cavani denied them against a Salah-less but plucky Egypt. But then the thickset centre-back Jose Maria Gimenez rose from a corner and headed home a late winner to secure all three points and show his much-vaunted million-dollar strike force how it is done.
Next up was Group B. A group of two halves. The lesser half started things rolling with a performance from Morocco which should have captured it all three points. But when their defender headed home a late goal, this time it was at the wrong end and in the wrong net, gifting a grateful and excited Iran three points it barely deserved; and leaving the Moroccan coach Herve Renard to utter afterwards the two most resigning and exasperating words in the game: That's football.
Then it was finally time for Spain and Portugal. Both sides would have been so grateful to make it to starting line given that in the days prior one had lost its coach and the other had had its gold-plated player sentenced to two years in prison. Quite some immediate build-up for a game the world had waited for since the draw balls were plucked out back in December.
It was worth the wait though. This game managed to combine the best components of the previous three to produce pretty much the ultimate World Cup match. Rivalry, testiness, histrionics and passion immersed with pure class, genius and quality goals. There was even some booing, jeering and whistling from the terraces. This was a class team pitted against a class player. It happens sometimes at the World Cup. What rarely happens, however, is that the class player draws 3-3 with the class team.
Cristiano Ronaldo actually reminds me in some ways of Donald Trump. He divides people into two distinct camps; those who worship him and those who loathe him. And those who loathe him despise his strutting ego and self-appointed greatness and genius. You can be great and you can be a genius. But it is for other people to state that. Not for you to announce it. And they long for the day when his luck finally runs out and everything comes crashing down around him. But, just like Trump, no matter how much people write him off or predict his demise, he just seems able to come back even stronger and more determined than before.
He is truly a freak of nature. This was one of those World Cup matches that will remain with me until my dementia sets in. And even then I will probably sit bolt upright one day in my rest home, eyes wide open, and see that CR7 free-kick arching into the Spanish net. It is not the best free-kick I have seen at a World Cup  – that honour still remains with Hristo Stoichov, Bulgaria v. Germany, USA 94 – but to haul his team back for a second time in a game where it was so clearly outclassed requires a rare combination of self-belief, courage and genius that only a very select few can ever hope to muster.
Russia 2018 is underway. In style.
Follow Euan on Twitter