By Keith Miller
We're yet to find out what the Pay-Per-View cost will be for the Parker vs Ruiz fight on December 10th.
Yet it all points to a significant increase on the stock standard range of $39.95 to $49.95.  An increase is fair enough when you consider the quality of opposition, but it doesn't hide the fact that previous Duco PPV events have been hopelessly overpriced to date.
Duco have a significant problem.  They are a month out from what they –and plenty of others – consider to be a massive event, and the late venue announcement has left them little time to get together a decent undercard.
Some reports suggest a price range of $70-$100 for the event on PPV.  For that kind of coin we'll want a far, far better undercard than the dross previous Duco efforts have provided.  We're over the little people, D-Grade "celebrities" and The Brown Buttabean.  Actually, we were over the Brown Buttabean some time back.
No more circus acts.  For this to be sold as a world class event, a quality undercard is vital, and that's where Duco could fall short.
In their stable they have a good quality fighter in welterweight Jeff Horn.  He's due to fight on the card, but he fought less than two weeks ago, so his opposition (Ali Funeka) is 38, and has rarely fought outside of his home country of South Africa.
After that, the cupboard is bare.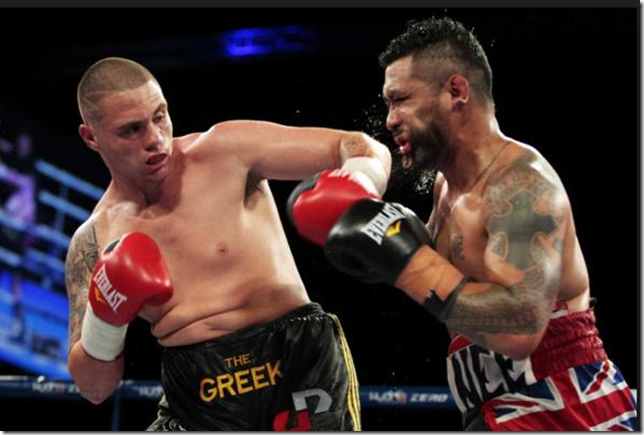 To give you some idea, as it stands the following are allegedly to be on the undercard (with no opponents named, and at short notice):
Mose Auimatagi Jnr
Julius Long
Leki Maka
Michelle Preston
Nikolas Charalampous (pictured)
Excited yet?  Thought not.  Strangely, you won't yet find these names on the Duco website.
Nik the Greek showed a lot of promise but got beaten (by his own admission) everywhere but on the judges' scorecards in his comeback fight.  Julius Long has lost 12 of his last 15 fights.  You can check out the rest, but don't hold your breath.
This is a big test for Duco.  To be seen as a big player in event management they need to look good on the world stage.
Time will tell.
Follow Keith on Twitter