80 words in 80 minutes. NRL round 19
0
By Stephen Gallagher
Thursday, July 19
Eels v Bulldogs, ANZ Stadium, 21.50NZT
A sub-par match to kick off the round, but that probably sums up Thursday night football.
The Eels sit comfortably in last position. Even if they were to nab a huge victory here, they'd still be last.
Parramatta's backline is electric on its day. Sadly, that day has rarely come this season.
The Bulldogs will have to dig deep to get a win here. They've been able to post points, but not consistently enough.
TIP: Eels 1-12
Friday, July 20
Sharks v Raiders, Southern Cross Group Stadium, 20.00NZT
This is a pretty exciting game. The Sharks have been playing really good consistent football.
For the Raiders, every match here on in must be treated with a finals mentality. They have to win every game for any shot to make the finals.
Cronulla have done really well this season in their opposition's red zone. If they camp in the Raiders 20, they will score points.
Canberra have to do this all without their inspirational leader, Jarrod Croker. Out for the season.
TIP: Sharks 1-12
Broncos v Panthers, Suncorp Stadium, 21.50NZT
What makes these games so exciting is that a win or loss either way can tip teams out of the top four.
Brisbane are back in the comforts of Friday evening, so you know they'll be close to their best despite the short turnaround.
For Penrith, they've almost got their best 17 out there, for the first time in a long time.
They will want to build in to the finals with some strong victories against other top eight sides.
TIP: Panthers 1-12
Saturday, July 2
Knights v Titans, McDonald Jones Stadium, 17.00NZT
Newcastle lost 7/9 games without Mitchell Pearce, and won 5/8 with him. That showed again last week his return from injury was a major boost.
The Titans have to learn to create better chances to finish. Too many times this season they've come up with some key errors at critical moments which have hindered their point scoring ability.
Neither of these two are flashy sides, so expect a grinding match that will be quite tight for 70 minutes.
TIP: Knights 1-12
Wests Tigers v Rabbitohs, ANZ Stadium, 19.30NZT
The Tigers look to kill off some more top eight sides in what would be a massive upset victory against the nine-in-a-row Rabbitohs.
A fully fit Rabbitohs side looks really ominous. They're competitive in every tackle, run, and kick.
If the Tigers are able to compete for 80 minutes, it'll be an incredible show from this side.
The Rabbitohs should still get the job done, unless they forget to bring their boots.
TIP: Rabbitohs 1-12
Cowboys v Dragons, 1300SMILES Stadium, 21.50NZT
The Cowboys horror show is coming to a close.
For the Dragons, they won't want to slip down the ladder like last year, despite the fact they probably won't drop out of the eight.
A couple of injury concerns for the Dragons need to be swept aside, because the Cowboys are a good side.
North Queensland with only four wins, the Dragons with only five losses. That's a big difference.
It makes sense to back the Dragons here.
TIP: Dragons 1-12
Sunday, July 22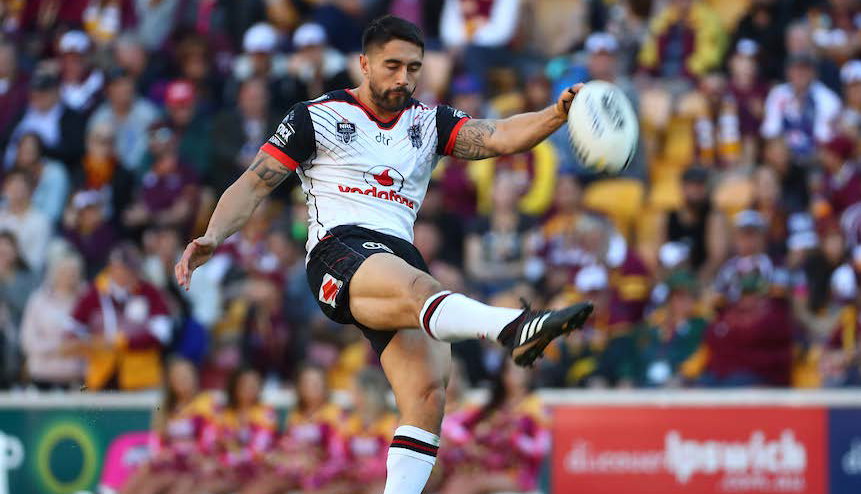 Warriors v Storm, Mt Smart Stadium, 16.00NZT
How much steel to the Warriors really have? They're 4/8 at home, and boasting the best away record in the NRL. With more away wins this season than the last three seasons combined.
If they want a crack at the top four, then they have to crack the Storm.
Melbourne made rugby league look easy on ANZAC Day in their last clash, and the Warriors would hate to be pantsed after a good game last week.
Warriors just have to play fast, and strong. Give the Storm some pressure, and see how they go.
TIP: Storm 1-12
Sea Eagles v Roosters, Lottoland, 18.10NZT
For the second week in the row, the Roosters round out the week away from home.
Manly were unlucky in their one point loss to Melbourne last week, and the Roosters bought some luck.
The Roosters side has six key players returning, which definitely throws the game in their favour.
For Manly, their best chance of winning is to get the ball in the hands of Daly Cherry-Evans. Everyone knows what this guy is capable of.
It doesn't matter who is outside him, they just need to score.
The Roosters do have such a solid side though. Hard to beat.
TIP: Roosters 1-12
Follow Stephen Gallagher on Twitter