World Cup Diary 8: The Retrospective
0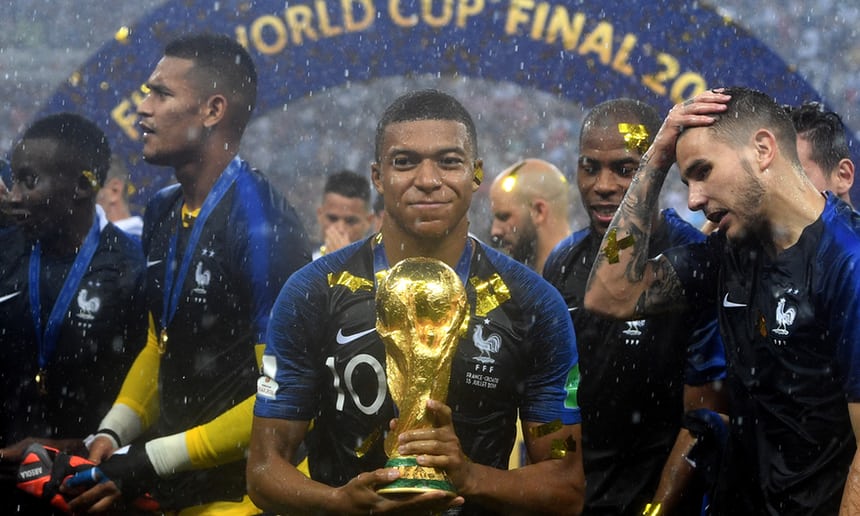 By Euan McCabe
The three most humorous moments I have witnessed at World Cup finals tournaments were not intentionally funny. But this only helps to underpin one of the most magic elements of humour – that it is often at its very best when enjoyed by most at the expense of the unfortunate few actually involved.
The first occurred at Spain 1982. France was playing Kuwait in a group match and scored a goal which put it 4-1 in front. But Sheikh Fahid Al-Ahmad Al-Sabah, President of the Kuwaiti FA, was having none of it. Seated up in the stand he claimed to have heard a whistle in the crowd which had caused his players to stop, allowing the French to score. So he waved his players from the field with Arabic flair as he went down to join them on the sideline, where a heated discussion then took place between himself and the Soviet referee. His players were coming off for good unless the referee struck out the goal. Then, to just about everybody's amazement, the referee agreed to his demand. This decision only caused French manager Michel Hidalgo to stalk angrily into the fray and to set off a bout of pushing and shoving amongst players from both sides. The melee also consisted of a number of armed Spanish military personnel and media with cameras all jockeying for position. The Spanish military, who had initially tried to clear a space around the Sheikh and the referee by aggressively shoving the media people away, now had to turn their attention to preventing the players from lynching each other while also trying to clear a secure pathway for the enraged Hidalgo. Where else but in the football World Cup will you ever see an Arab Sheik arguing with a Soviet Referee and a French manager as the Spanish military vainly try to restore order? All that was missing from this hilarious and complex nationalistic dust-up were a number of little policemen dressed in black charging around and clubbing people with rubber truncheons.
The second occurred at South Korea/Japan 2002 and involved a gentleman by the name of Giovanni Trapattoni. All managers of the Italian national football team seem to be highly temperamental types, it seems to be part of the job description, but Trapattoni took the emotional burden of the role to whole new heights. He was, to say the least, highly strung; the type of person who just the slightest of impositions was likely to set off a Pompeii-like eruption. And there were a series of them for Trapattoni to deal with in Italy's second round knock-out match against South Korea, all of which eventually conspired and compounded to produce a human being literally on the brink of exploding apart. And when Francesco Totti was sent-off, he belted his hand violently against the perspex cover protecting the fourth official from irate Italian managers as he demanded this official step forward and rectify this blatant act of conspiracy and injustice against the people of Italy. That was amusing enough, but what capped the whole situation off was the blandly bemused look of disinterest on the fourth official's face, a response which just enraged Trapattoni even more and prompted tears of laughter to roll down my face. Priceless.
But my favourite moment of all occurred during the second round match between Bulgaria and Mexico at USA 1994. One of the goal structures was broken part-way through the game, causing the referee to halt play and leaving everybody standing around trying to work out what happened next. And that included me. What exactly does happen now? Well, as it turned out, none of us had to wait long for the answer after all. From nowhere, a small army of men carrying a brand new goal structure suddenly trotted out into the arena. Dressed identically in sweat tops, pressed fawn slacks and broad-rimmed hats, they moved swiftly across the turf to reach the broken goal, then dismantled it and erected the replacement with the clipped efficiency of worker ants. I just howled with laughter.
I love that moment not just for the unexpected sight of these men appearing from nowhere and instantly solving a seemingly unsolvable dilemma, but also for the way it spoke about the people of the United States of America. FIFA had taken a major risk in entrusting its flagship tournament to a nation that had always endured an awkward relationship with Association Football. But the Americans are a breed apart from the rest of us. Nobody quite knows how to put together a major production like they do. And the bigger, the better. Furthermore, the Americans were clearly determined that nobody from anywhere else in the world would ever be able to accuse them of not doing the job properly or of failing to treat the tournament with the respect it deserves. They obviously decided beforehand that every possible eventuality would be covered off, no matter how unlikely to occur. In other words, they were not prepared to be caught with their pressed fawn slacks down. And they were not. I mean, how many times had that goal structure replacing manoeuvre been practiced? It had to be several times, given how expertly it was executed. And I presume it was not just practiced at that particular venue in New Jersey, but also at every other venue used at USA 1994.
The way the people of America approached and then embraced that tournament is one of the reasons why USA 1994 still ranks today as my all-time favourite World Cup finals tournament. Record crowds flocked into massive stadiums in gorgeous weather and had fun. The whole thing came in such stark contrast to the dark tribal cynicism of Italia 1990 four years earlier. And the football responded too; the brutal, confrontational and suffocating football of Italy was replaced instead by an open and free-spirited brand played out on the wide open prairie pitches of America. It also allowed the superstars of the sport to all shine brightly; Baggio, Hagi, Romario, Stoichkov, while also inviting fresh new names like Sweden, Bulgaria and Romania to travel deep into the tournament. In fact, the world itself had undergone massive change in recent times and this tournament seemed to provide a platform for new expressions of freedom. To see Romania light up the tournament with such grace totally belied the nation's recent brutal history under the tyrant Nicolae Ceausescu, or to welcome Germany back as a unified nation just seemed to fit nicely into the prevailing mood of USA 1994. Nor was there any any off-field violence to speak of. And it was also so gratifying to see America pull it off, with interest, when just about everybody else was predicting a train wreck. Just a pity that this wonderful festival of football happened to be bookended by its two worst games: The tournament opening dirge between Germany and Bolivia and the scoreless bore-draw final between Italy and Brazil.
But it still ranks as my favourite. And I guess another significant reason for this is that it was the first World Cup tournament that I sat down and watched the whole thing from start to finish. Not everybody, however, will agree with my assessment. And I understand that. Especially those old enough to remember Switzerland 1954 or Mexico 1970, which many seem to anoint as the best of all time. But I never saw those tournaments, and so USA 1994 is the barometer I always turn to to compare each new tournament. Especially when people start talking about whether a certain World Cup is the best of all time, as some have with Russia 2018.
So to round out my World Cup Diaries of 2018, I am now going to match up the Russians against the Americans to find out how this latest World Cup edition compared with my favourite. Everybody loves a good old-fashioned Cold War tussle, especially me. Call it FIFA's nuclear deterrent.
Organisation
Both score well here. Nobody organises a tournament quite like FIFA but the host nation itself has to carry most of the burden to make it successful. Putin had every stadium ready a year before kick-off, which at least stopped the perennial four-yearly – and perennially incorrect – bleating from the media about how the host nation would not be ready. And the security card system was clearly a triumph. Not a single thug appeared to make into a stadium during the entire tournament; besides, of course, Putin himself. And everything else seemed to go off without a hitch. Apart from Pussy Riot. I would not want to be the person who issued their security cards. But America also matched up in these respects, so I am calling this a draw. America could have pinched this close contest on the basis of its sensational goal structure replacing manoeuvre, but that was offset by its balmy decision to play that indoor game in Detroit.
USA 2 Russia 2.
Vibe
Again, both score well here. When I visited Russia two decades ago I noticed that nobody looked at me or spoke to other people in public. Hardly surprising, though, when given that decades of looking at the wrong person or saying the wrong thing could put yourself into a Siberian gulag. Things have obviously changed. The Russian people are clearly no longer afraid of expressing themselves in public; apart from, of course, journalists and political opponents of Vladimir Putin. But the rest of Russia had an absolute ball. Now, there is a sentence I never thought I would type. Russians are not usually a race of people who have fun, largely because they have no had discernable reason for having fun for roughly 15 centuries now. But they were sensational here, completely dispelling those predictions that this tournament would be a dark affair and that Russia would be a horrible place to visit. But, once again, the people of the USA matched them stride for stride 24 years earlier. And they were hardly known beforehand for their love of 'Soccer'. So another entertaining draw here.
USA 3 Russia 3.
Quality of football
Russia 2018, with the exception of Portugal v Spain and Mexico v Germany, started sluggishly in terms of quality football. There were a lot of 1-0 wins early on, most seemingly settled by a penalty or an own goal. During the first week nobody seemed capable of putting together a quality goal from open play. Or even constructing or finishing simple chances. And then there was the Spanish and their 1,006 largely ineffectual passes. Even France spluttered early on. But things certainly changed as the tournament progressed, with Belgium and France as the stand-outs in terms of producing quality football and quality goals, both team and individual ones. This was a tournament that, at the end of the day, produced just a solitary 0-0 draw and very few of those intolerably insufferable bore-fests that seem to be a standard part of every World Cup. And this was because most teams chose, thankfully, not to stack the defence and bank on negative football. There were also a lot of games with early goals, which always helps. This is a very tight call, but I am awarding all three points to the Yanks. This is because, apart from the opening and closing games, USA 1994 also produced a stack of quality football, while the goals per game average of 2.71 in 1994 (without the VAR) shaded this year's 2.64. And Stoichkov's free-kick was better than either Ronaldo's or Golovin's; while having a Golden Boot winner who scored three penalties and one unintentional deflection did not help Russia. But another high-scoring and close affair here with Russia's slow start probably costing them a point.
USA 4 Russia 3.
Impact of Star Players
Again it is USA 1994. Largely because the stars of that tournament shone brightly right throughout; apart from the final, and I am scoring that separately further down. Aside from player of the tournament Luka Modric, the other potential stars of the 2018 tournament, Ronaldo, Messi, De Bruyne, Hazard and Pogba, all at some point struggled to be visible through cloud cover. They all had good tournaments, but not great ones. And Neymar? Well, he just did an Oscar Wilde – lay in the gutter and stared up at the stars. You do have to feel for Lionel Messi. This was supposed to be his tournament. And yet he ended up in amongst the pub brawl that was Argentina 2018, forced to play deeper and go searching for the ball instead of having it delivered to him on a Catalonian plate. Kylian Mbappe probably made the greatest impact.
The comparisons with Pele were inevitable, given his age, humble roots and pure talent, and it is going to be great to watch his career from here. Another thing which gives USA 1994 all three points here was the late appearance of the incomparable Diego Armando Maradona and his clock-winding-back screamer against Greece. This tournament also featured The Little Man, but only proved that the stand is probably not the best place to showcase his talent.
USA 3 Russia 1.
Impact of Smaller Nations/Upsets
Another tight tussle here but I am giving it to The Motherland. In 1994 the host nation exceeded expectations on the pitch, but the Russians did even better this time round. And while Sweden and Bulgaria popped up in the semi-finals in 1994, they were both, sadly, knee-capped at the last hurdle by the old guard of Italy and Brazil. This time Croatia made it all the way to the big dance, while Belgium probably would have if it had lost to England in the group stages. But apart from South Korea/Japan 2002, when South Korea and Turkey made the semi-finals and the USA and Senegal the quarter-finals, there are probably no other modern World Cups where the 'smaller' footballing nations shone so brightly or caused more upsets than at USA 1994 and Russia 2018.
USA 2 Russia 3.
Drama and Controversy
Now, where do I start here? Neymar or VAR? Probably best to forget both. But, unfortunately, both will be back and so we cannot just pretend to ignore them and hope they go away. With Neymar, I just hope somebody back in Brazil gives him a damn good shake. Because this guy is a sensational footballer and we would all like to see a bit more of the football and a lot less of the histrionics. Same goes for Colombia. With the VAR, I will simply repeat what I said back in World Cup Diary 2 when it made its debut in the game between Australia and France: I cannot see the point of wasting several minutes just to have one marginal decision replaced by another marginal decision. Just stick with the original marginal decision and get on with the game. And while it is undoubtedly useful in blatant situations, the marginal calls just prove that it is not technology at all, but humans using technology to make the kind of errors that any referee can make himself out in the middle. In terms of controversy, this World Cup had some but not as much as some previous tournaments. And it also lacked that one huge moment that has branded so many of its predecessors. There was no Toni Schumacher, Hand of God, headbutt or bite. There was, however, plenty of drama. But there is plenty of drama at every World Cup, which some people seem to forget as they breathlessly claim that this shoot-out or that shoot-out makes this the most dramatic World Cup in history. For goodness sake, there are shoot-outs at every World Cup, and I cannot remember many lacking in the dramatic impact department.
While there was also plenty of drama and controversy at USA 1994, it probably did not quite match this year's efforts – but, at the risk of rightfully being labelled crass, the Americans come back to grab an added time equaliser with the post-tournament execution of Andres Escobar.
USA 2 Russia 2 
7.  The Final
Nothing much to say here, other than it is a rout for the Russians. Okay, Griezmann dived and the VAR botched a penalty call. But at least something happened.
USA 0 Russia 3.
So, in summary, this Cold War match-up was a high-scoring and entertaining affair. And rightly so. Because both tournaments were excellent. Outstanding, even. But USA 1994 still remains my favourite.
See you all in Qatar in 2022.
Follow Euan on Twitter