Beaudy: Skills, drills & the path to the top
0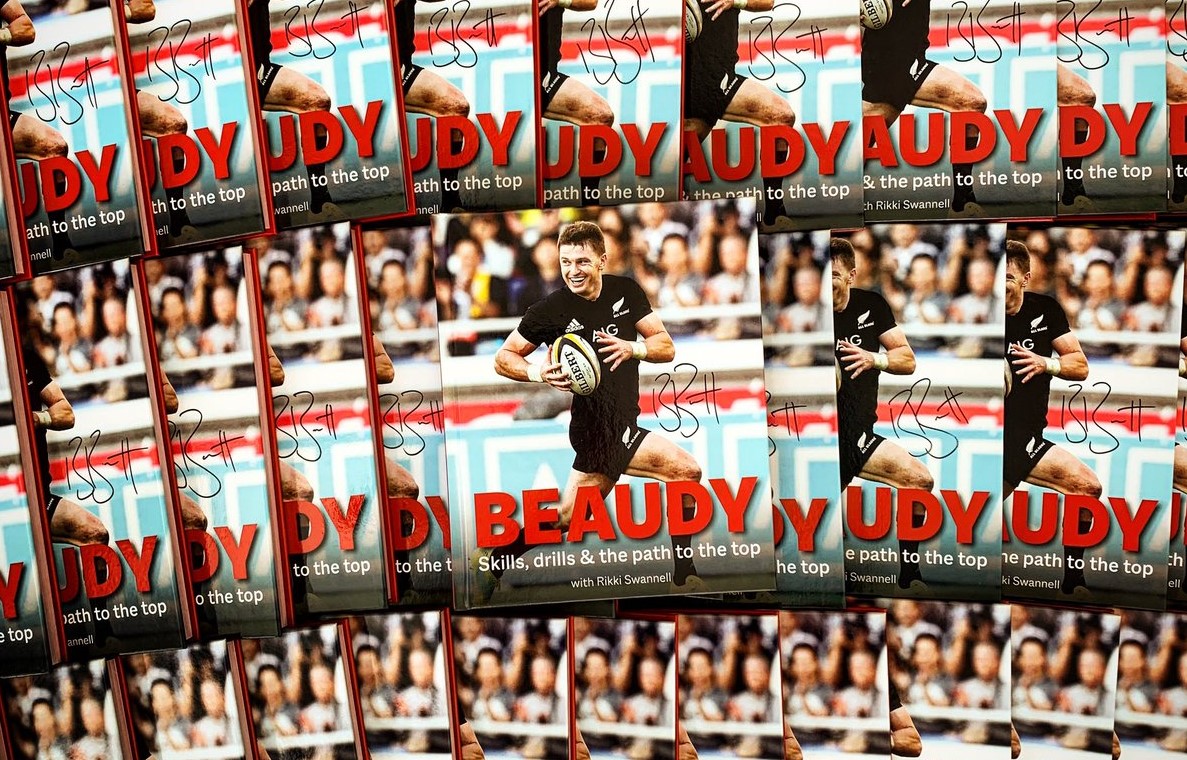 By Aiden McLaughlin
Beauden Barrett's new book isn't the typical sports autobiography that you might expect in the buildup to Christmas. Teaming up with Rikki Swannell, 'Beaudy: Skills, drills & the path to the top' is instead an effective mixture of the early part of Barrett's life and career, coaching tips, and ideas and guidance for youngsters wanting to make sport their career.
Barrett's family background is relatively well known; the son of Robyn and Kevin (himself a former professional rugby player), he's one of eight siblings who grew up on a farm in Taranaki. The first chapter looks at life growing  up in that environment and how the Barrett's moved to Ireland at the turn of the century – Beauden played and enjoyed Gaelic football and soccer while they were there – before adulthood came calling.
From there, Barrett and Swannell look at his career crossroads. University in Dunedin was a relatively obvious option, much more so than his brief temptation to go to Melbourne to give Aussie Rules a go. Like plenty of young men and women, he'd had some knock backs (missing out on selection for the New Zealand Schools rugby team for example) but another door opened in the form of Sevens and we learn how that opportunity was the catalyst for much more.
'My eyes widened. Darren Shand, the All Blacks manager. He was calling to tell me I'd been selected in the squad for the June Series against Ireland…The skinny kid, once called Rabbit, from a farm in Pungarehu was going to be an All Black.' 
The book's autobiographical side finishes in 2012, the year Barrett was selected by the All Blacks for the first time. The early years are covered in just the right amount of depth; informative without being laborious. We also get an insight into a career decision between the Blues and the Hurricanes almost 10 years ago.
There's a feature on some of Barrett's favourite teammates over the years (some predictable, others not so much) before moving onto 'Skills & drills.' It's been a while since I played rugby at school but if I think back to my teenage self, I'd have taken a lot out of this. It's easy to follow with good pictures to illustrate the processes being explained (spoiler alert, there's a focus on traditional backs skills rather that the forward pack).
Barrett and Swannell look at the importance of off the field habits and behaviour; being professional. He doesn't pretend he's always liked the gym or the strict nutrition he needs to observe to be in his best condition, but equally he emphasises their importance if you're going to be successful. Mental skills, goal setting and the acknowledgment of criticism and social media interaction are covered. 
'There's simply no place for cyber-bullying and if you wouldn't say something to a person's face, why think you can do it online? There's no secret answer to how I deal with the bad side of it, although from time to time if someone is misinformed I'll reply with a simple fact or a smile…'
This is a good, informative family purchase. Some chapters for the senior members of the household, others for the younger ones. It's not the definitive Beauden Barrett book, perhaps that will follow when his rugby career has finished, but for the here and now, it's a well balanced read with plenty to be enjoyed. 
Follow Aiden on Twitter