Captain Fantastic and the Brown Dirt Footballers- Indelible Boyhood Memories
4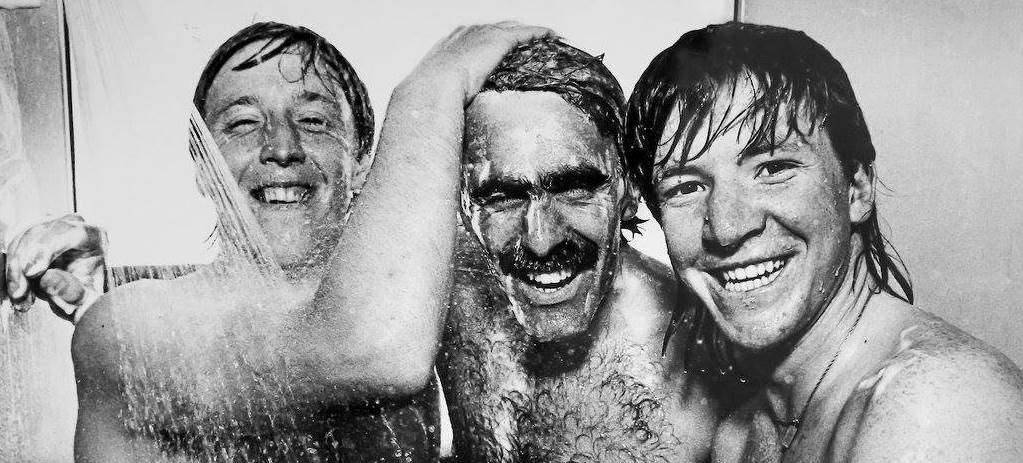 By The Spotter
I welled up yesterday morning and a part of my heart broke. Steve Sumner was just the bee's knees for me as an impressionable, mad-on-football 11 year-old, with my side of the bedroom chock a block with 'Shoot' magazines and Arsenal and All Whites stuff (including that famous biscuit tin- which my mother inexplicably threw out one day when I was overseas).
It's Anzac Day 1981, the day of New Zealand's first game on the long qualifying road to the football World Cup in Spain '82. My mate Johnny Hislop, I and the other members of the North Shore United 11th graders march round the Athletics track ringing Mt. Smart Stadium, along with hundreds of other junior players from all over Auckland. Johnny and I goof around, marching like idiots at the back and later on get a rocket from Johnny's father, the coach.
NZ played in black shorts, still not quite the All Whites yet. The fortitude of the team was already so very evident right from that first encounter, as not once or twice, but three times that once-in a-lifetime, guts for glory band of men fought their way back from a goal down. And who should get the final score for 3-3 as stoppage time loomed large? Of course he did- Steve Sumner, that footballing force of nature. The goal was a real thing of beauty, too. A must for every coaching manual, as you'll see here at 3.53:
Hard to envisage anybody else but S.S. would have risen like that to nail the header after running himself silly as the midfield fulcrum in the desperation to pull back those goals.
And the look on the Australians' expensive German coach Rudi Gutendorf's face after that third one went in made it all the sweeter. And sweeter still was when the All Whites put the seal on a 2-0 victory in the return in Sydney with a memorable header from Grant Turner a month or so later. The header went in and Rudi and his faltering Socceroos went out.
Before the never-to be-forgotten second round against the top qualifiers from Asia, S.S. managed to put six goals past the hapless and coach-less Fijians in a 13-0 shellacking at Mt. Smart, at the time a world record. Bear in mind that Sumner was a midfielder. That match led to the nationwide joke that it had all been too much for the Fijian goalie and he went and stood in front of a moving bus…but the bus went right through his legs.
Anyone who paid attention and was around at the time knows what happened after that- the almost certain refereeing stitch-up in the home clash versus Kuwait (when I swore out loud in public for the first time and was firmly rebuked), the crucial Ricki Herbert equaliser in the 2-2 with Saudi Arabia, followed by the absolute heartbreaker last second goal by Kuwait in the 2-2 draw over there. Surely any other team would have been broken by what transpired from that- the horrible realisation that Saudi Arabia had to be defeated by a minimum of 5-0 away from home just to secure a play-off with China.
That that 5-0 scoreline was achieved and then China defeated 2-1 in the stifling Singapore heat on 10 January, 1982 elevated the team from fantastic to historical legends. Apparently that result made so many grown men cry, the Snowtex factory was in danger of running out of their chief product. And the news pictures of the shirtless, hairy buggers of the All Whites tearing about the field like demented monkeys at the final whistle were beamed all over the globe. Suddenly John Adshead, Kevin Fallon, Steve S and his boys were being feted like they had just won the World Cup Final itself. Has there ever been a more memorable period in our sporting history? Unlikely.
Domestically, Steve Sumner was just, if not more influential. As I watched on from at the ground, his performance in leading Manurewa to victory over the hottest of favourites Gisborne City in the Chatham Cup Final of 1984 (also at Mt. Smart) was the best single performance I have ever seen from any top-level domestic match in NZ, ever. And he just had to put in both Manurewa's goals, didn't he? Kevin Fallon on the TV news explained that Sumner was always the one man that would put the spanner in the works of the chances of the opposition winning any crucial match. No doubt that '84 Final was included in that.
Steve Sumner, thank you, thank you, thank you for making so many wildest dreams, mine included, come true on that heady and unbelievable Road to Spain. There's only one Stevie Sumner and there'll never be another like you. Bless your immense soul.