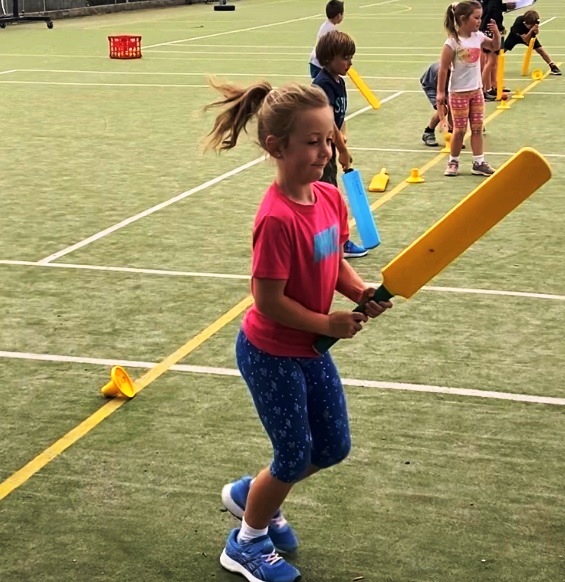 By Aiden McLaughlin
We're some of the lucky ones. Parents to two healthy daughters. My wife and I are able to provide a loving and stable environment for them to hopefully grow into happy young women and choose paths that give them as much joy as we've had while raising them.
Aged 5 and 7, we try to give them opportunities to attempt new things. If they don't like it, not a problem, but give it a go. They've learnt that they can be honest with us too. I took the oldest to Athletics about a year ago. She enjoyed school cross country a few months before so I thought it might be something she'd get into, but as we walked back to the car, she quietly said she didn't really like it. I was so pleased she said it; it would have been much easier to come back week after week because she thought it would make me happy, but she was honest and I couldn't have been prouder.
This weekend, I took both girls to their first cricket skills session at their primary school. It followed a summer where the cricket set had come out in the garden and they'd had a go and enjoyed it. Like any first timers, we didn't really know what to expect. There were about 30 children ready to get stuck in and soon they were brought together in a huddle and (most) listened in closely. After a little warmup, they were separated into three groups. Batting, bowling and fielding drills lasted about 15 minutes each. After that, everyone came back together before being split into four teams, for two games. At times it was chaotic, but all the parents got involved to help and guide proceedings. At the end, each child was given their own bat, ball and set of stumps and bails to take home. Before I knew it, I was back out in the garden for another half an hour of batting practice. Conclusion: my girls loved it.
I'm assuming this was the easy bit. Although it was a positive start, that's all it was. As time goes on, the initial spark may subside. Who knows, after this term the cricket experiment may come to an end and it'll be onto the next thing. But if they want to pursue this or any other sport, then we want to make sure we get the most out of it.
Jason Pine's Radio Sport show has a regular feature where he speaks to sports coaching expert Wayne Goldsmith. One of the areas that Wayne specialises in, is the best way to help your children achieve in sport. With that in mind, he has created a list of 50 things parents can do to assist in that regard. Some may seem obvious, some may not, but there's plenty there to digest and if parents can pick up a few pointers than it's very much worth a read. We've all heard of or experienced bad parent behaviour at sports but even if we call these things out, ultimately all we can control is our own actions and Wayne's tips are a great place to start.
With so many different things to digest when growing up, the biggest challenge is keeping children interested in sports participation. Just last week School Sport New Zealand released their 2019 census and although netball, basketball, rugby and football continue to be the most popular sports at secondary school level, there is an increase in sports that are available to play. Despite that extra choice, participation levels remain relatively consistent at 51%. Teacher coaching numbers continue to decline and research is underway to understand what's behind that trend.
Over the coming years we'll get more first hand experience of the issues facing sports participation but for now, cricket awaits next Saturday morning. Before that however, tennis starts for one of them on Tuesday and netball starts for both on Wednesday. Times are busy, but we wouldn't have it any other way.
Follow Aiden on Twitter