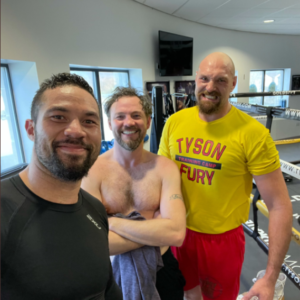 By Aiden McLaughlin
It's often said that a change is as good as a rest and given the fact that Joseph Parker last fought on February 27th, he will be hoping that a relatively short turnaround of nine weeks will be countered by the significant adjustments he has made since then.
After defeating Junior Fa by way of a unanimous points victory, Parker's professional record stands at 28 wins and 2 defeats. He's been World Champion and, at 29 years of age, is a heavyweight boxer who should have a number of years left in the tank. It's a pro career that is almost 9 years old and he has only fought three times since June 2019. Desire and fitness allowing, there's no reason why Parker can't fight on for the next three or four years.
Having scaled the heights in winning the WBO Heavyweight title against Andy Ruiz Jr in December 2016, Parker made two successful defences before losing the belt to Anthony Joshua on a unanimous points decision in March 2018; a second defeat (also a unanimous points decision) followed in his next fight, against another Brit, Dillian Whyte. The reaction to those defeats covered two main areas as I recall; (1) Parker had reached his level and that's as good as he could manage (2) his trainer Kevin Barry couldn't get the best out of his abilities. 
Parker and Barry had worked together since 2013 and by Parker's own admission, their relationship had developed into one that was as much father and son as it was fighter and trainer. Perhaps that's why it lasted as long as it did, but in the days that followed the victory over Fa, the split was confirmed. Earlier this week Parker said:
'We ended it the right way by sitting down and talking about it, understanding and supporting each other. But the fact is I had probably got too comfortable in that situation, which was also a reason why I didn't make this move earlier. But I had become stale.'
When you're Joseph  Parker and you're looking for a new trainer, what do you do next? Well, in this case, you ring one of your heavyweight rivals, Tyson Fury. 
'I called Tyson and said 'I'm looking for a trainer.' He said Andy (Lee) would be perfect. Five days later I was on a plane flying to Ireland. Everything happened fast.'
Andy Lee is a former World Middleweight champion, having held the WBO belt over a 9 month period spanning 2014 and 2015. A second cousin of Fury, Lee was trained during his own career by legendary trainer Emanuel Steward (who had previously looked after the likes of Thomas Hearns and Lennox Lewis) before Steward passed away in 2012. Upon retiring from the ring in 2018, Lee became a trainer himself and is part of Fury's inner circle; in fact, Parker and Fury have been training at the same gym at various times over the last 6 weeks or so.
Parker's upcoming fight, against Britain's Derek Chisora, was only confirmed on 19th March. It's a fight that was originally scheduled for October 2019, before Parker had to withdraw after being bitten by a spider. Chisora, now 37 years old, has won 32 of his 42 professional fights and unsuccessfully challenged former WBC Heavyweight Champion Vitali Klitschko in 2012. With the possibility that Joshua will vacate his WBO belt in order to finalise a two fight deal with Fury, a victory for Parker against Chisora could well mean a shot at that vacant title. Defeat to Chisora will not only close that door, but leave Parker with a distinct lack of future options. Being eight years older, Chisora (who also has a new trainer in Buddy McGirt) also knows that this could be his last chance to make waves in his career.
It will be an interesting fight. Earlier this week, Parker said:
'I chased a knockout against Junior Fa. I wanted to look good, put on a great performance, I loaded up the pressure and went looking for the knockout too much. Even at 29 years old, I still have a lot to learn. It was an amateur mistake of trying too hard. I just need to focus on the game plan and let it flow, which lets the knockout punch come naturally.'
Chisora's manager, former World Champion David Haye has said:
'Chisora isn't going there to go 12 rounds, what's the point of that? That means he's accepted defeat, he can't do that. He knows he's not going to win this fight on points. If we hear the final bell it's not going to be in Derek's favour. He knows he's got to knock out Joseph Parker, who's never been knocked out before.'
It's likely to be an explosive start as Chisora chases that knockout. But will that leave defensive gaps for Parker to possibly spot and exploit? The win is the main thing, it always is, but boxing is also a sport where the manner of victory helps sell tickets and secure future fights. For a while now, there hasn't been a great buzz about the way Parker has won his contests and in order to get another shot at Joshua, or perhaps Fury, a knockout win of his own would be handy.
Both fighters, with new trainers, are embarking on new beginnings. But defeat would mean a huge roadblock to their careers, possibly one that they won't be able to get past. The stakes are high.
Joseph Parker v Derek Chisora and the supporting undercard is available on Spark Sport Pay Per View on Sunday 2nd May. The main event will not start before 9.30am NZ time.
Follow Aiden on Twitter