Newcastle United 2015/6 Review
0
By Dan Cumming 
Due to the nature (and result) of this season, this piece could either have been 1 word or 2,000. Nothing in-between would quite do it justice. I've gone with the latter – writing it was quite cathartic – and I'm sure you could have a decent guess what the former would be anyway.
Relegation has been a long time coming, perhaps even inevitable. Newcastle United finished 5th in the 2011-12 season, but the club emphatically failed to capitalize on that and since then the club has regressed to the point where relegation was a real threat in 2012-13 and 2014-15. Mike Ashley & his boardroom lackeys stated that they had learned their lessons from previous campaigns, that the goal for this season was to drive the club back into the top half of the premier league, and Ashley was prepared to spend some of Wonga's hard earned cash in order to put the relegation battles in the past.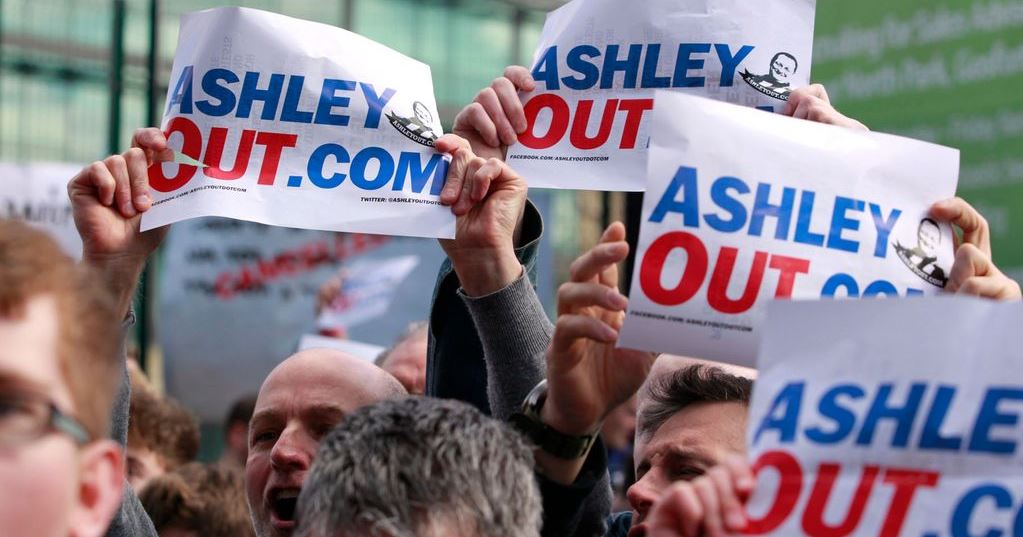 To begin with however there was the matter of hiring a manager to replace the out-of-his-depth caretaker John Carver. Carver's nearly disastrous stint was mercifully ended in June last year after a taking over from Alan Pardew with the side in mid table and flirting dangerously with relegation. It was a sad end for Carver – a local who had given a lot to the club and possibly had more to offer – but there's no return after being sacked from the top job. With an obvious lack of quality candidates available "Schteve" McClaren was appointed, but only in a role as 'head coach' with no control over transfers.
For once, Ashley made good on his promise to invest in first team personnel and spent over 50 million pounds on Wijnaldum, Mitrovic, Thauvin and Mbemba. There was a sense of cautious optimism around our chances and the feeling was that with these new signings and a manager who had even half a clue what he was doing (optimistic, but he did win a title in Holland right?) we should be able to push on into the promised land of mid table mediocrity.
Fast forward to Saturday the 3rd October. Newcastle were away to title favourites Manchester City and still winless after a tough group of fixtures to start the season. In the first half we played excellently and really should have been up by a few, but the wheels well and truly fell off after the break and Aguero put us to the sword with 4 goals in 7 minutes. It was breath-taking stuff, but the amount of space he was given & the way the players just gave up was very alarming.
The new signings struggled to adapt to life at Newcastle with the exception of Gini Wijnaldum who was arguably our best player pre Xmas before dropping off the face of the planet in 2016. Thauvin was a complete disaster and was loaned back to somewhere in France while Mitrovic spent most of his time on the bench for fear that he'd get himself sent off. Mbemba showed athleticism and promise, but the learning curve from the Belgian Pro League to the Premier League was a steep one for a young raw centre half.
The early season optimism was replaced by a more familiar sensation of frustration, and we hadn't even played the first Tyne-Wear derby of the season yet. It is a fixture Newcastle fans have now come to dread and the October 2015 installation was no different. Much like the City game we were in control for 40 minutes before conceding a soft goal on the counter just before half time and then completely falling apart in the second. And once again, our rivals & neighbours showed more tenacity, composure and game smarts than us.
The struggle was becoming very real. We were bottom and some familiar comments about Newcastle were circulating on traditional and social media – usually either extreme schadenfraude or stating that Newcastle had too much quality to go down. Having quality players is one thing, but being a quality team is completely different and you don't last long in the Premier league without defensive solidity, mental toughness or a spine. It was clear to anyone who watched regularly that this team was lacking in those departments.
So, in the January transfer window the club of course addressed these defensive concerns and deficiencies loaned a striker & bought a playmaker, a no 10 and a winger. At least this time two of those players had premier league experience, and while he's not a defender Andros Townsend is exactly the kind of hard working heart on his sleeve player the Geordie faithful can get behind.
With the winter additions not really addressing the areas of the team that needed strengthening, it came as little surprise that the poor form continued into the New Year. With it came increasing calls for McClaren's metaphorical head on a metaphorical spike.
McClaren's record as manager was very poor, but it's hard to blame him for much of it. He just wasn't a good enough man manager to get a poorly constructed, unbalanced squad of mercenaries to turn up and play premier league quality football for 90 minutes. As the season went on his frustration mirrored ours, publicly blaming the players for defeats. A google search for "McClaren blasts Newcastle stars" brings up more hits than it probably should.
The sack finally came after a limp 3-1 home defeat to Bournemouth, Newcastle were 19th with a meagre 24 points from 28 games. The feeling was that it was too late – not enough time for the new manager to turn it around & get the points needed for safety, plus scepticism that we would be able to get a manager with the ability to do it anyway. As it turned out, one of those things was not true.
When the news broke that Rafael Benitez was our new manager, it was a bittersweet moment. After years of mediocrity with the likes of Allardyce, Roeder and Pardew at the helm we finally had a top class highly respected manager that would be able to handle the dressing room, effectively set up a team and if given control of transfers could build something coherent. The bitter part was that if he failed in his very difficult task to save the club, he would likely only be here for 10 games.
The enormity of his task was clear to see and Rafa the gaffer only picked up 1 point in his first 4 games – a point at home to Sunderland in the return derby. With 6 games to go most pundits had locked us in for one of the 2 remaining relegation spots and Toon fans had just about given up hope. But then, something happened.
Following a defeat to Southampton, Rafa made 5 changes to the starting XI and gave the captaincy to Moussa Sissoko. Sissoko had come to be seen as a poster child for Newcastle's flakiness and underachievement over the past 2 and a half seasons – he is a superb athlete and can be a force to be reckoned with when his head is in the game, but is a very inconsistent performer and goes missing far too often when the heat is on. Many fans were understandably confused by the appointment.
Rafael Benitez knows a bit more about football than the average fan however. Newcastle put in their best performance of the year to date, defeating Swansea 3-0 at home. Sissoko was excellent; this was his best showing for months and he seemed energized by the captaincy. This result gave us a glimmer of hope, but with City & Liverpool coming up next and fellow strugglers Sunderland enjoying a predictably good run of form under escape specialist Sam Allardyce it was still very much a long shot to save the club.
A gutsy point against Man City was followed by a memorable comeback from 2-0 down at Anfield to snatch another crucial point. I had almost forgotten what a team that is 100% playing for their manager and club looked like, but was sure this was it. A 1-0 victory in a must win game over Pardew & Cabaye's Palace was satisfying on multiple levels – 8 points from 4 games and all of a sudden we were out of the relegation zone for the first time in months. 1 game left against an excellent but possibly demoralized Spurs at home. Unfortunately Sunderland had a game in hand – but surely they wouldn't beat Chelsea?
Wrong. Chelsea had nothing left to play for and meekly surrendered a lead to the fired up and well organized Mackems who took the 3 points they needed to escape the drop, consigning Newcastle (and Norwich) to the Championship with the hapless Villa. Sunderland and Big Sam deserve a hell of a lot of credit for escaping after the state Advocaat left them in, but something needs to change at that club too or it's just a matter of time before they go down – as it was for us.
With relegation confirmed we rocked up and pumped Spurs 5-1, consigning them to 3rd. This was much to the glee of Arsenal fans who for the umpteenth time in a row won the only trophy they truly seem to care about, and Chelsea fans for reasons that I don't really understand.
Final day fixtures can be strange affairs, this was next level though. St James' park got right behind the freshly relegated team as everyone had seen the effect Rafa had on the club. The crowd wanted to do their bit to try convince him to stick with us, or at the very least say cheers for trying. At the time of writing, there are rumours in the media that he will still stay for next season. It's a great opportunity for him to build a team completely in his image that he may not get at an already established club and he is a perfect fit for a club that has a massive messiah complex.
If Ashley & Charnley fail to secure Benitez by offering him everything he wants and more to stay then I'm not sure we will ever truly escape what we are under Ashley's ownership, even if we do go straight back up next season. For a club of our stature to attract a guy like him isn't going to happen more than once in a decade or so and given the cast of managers we've had since Sir Bobby I shudder to think of what could be next. To be honest I'll be more gutted if Rafa doesn't stay than about the relegation itself.
I'd imagine the future of a lot of the players at the club hinges on Rafa's decision also, and I can't see many of the mercenary types sticking around if he goes. That isn't a bad thing but Rafa showed he can get this bunch playing so it'd be interesting to see if the 6 game unbeaten run at the end is sustainable over a longer stretch. Some of the higher earners will have to be moved on regardless of their wishes however.
A few I definitely want to see stay: Mbemba, Dummett, Colback, Townsend, Shelvey and Mitrovic. Not necessarily our 'best' players, but they've got character which you need in the slog of the Championship and more than enough quality for that level. Youngsters like Darlow, Lascelles, Aarons & Adam Armstrong will get a chance to establish themselves in the first team also.
One way or another a new cycle starts next season. A change in approach & mentality at all levels of the club is needed whether Benitez stays or not, especially with regards to transfer policy which has been a disaster over the past 3 years. But are Ashley & Charnley truly capable of driving this change, or are they destined to repeat the mistakes of the past?
Follow Dan on Twitter