NRL Round 16. The Preview
0
By Stephen Gallagher
THURSDAY: Sea Eagles V Storm  – 4 Pines Park – 21.50NZT
Fresh after rep round, both these sides will be looking to kick on the homeward stretch. 
The Sea Eagles need this result more than Melbourne does.
That heartbreaking loss will be far from the Manly minds as they look to get one up over an old foe.
Melbourne looks to me the better of the two, and have shown that consistently throughout this season.
Time is ticking for the Sea Eagles who sit in 11th. Every game from here on out is an important one.
They have to get on the board early and keep Melbourne on the back foot if they want to win this.
I just think that the Storm are too good.
TIP: Storm 1-12
FRIDAY: Knights V Titans  – McDonald Jones Stadium – 20.00NZT
While the Knights might not be dead last like the Titans are, they aren't that much more exciting to watch.
It also doesn't help their cause losing Kalyn Ponga to HIA protocols, but the Knights are at home and have to get a result here.
They were 30 seconds away from an upset at GIO Stadium a fortnight ago, but the Titans will be looking to get their own upset.
They welcome back David Fifita, so his presence will be encouraging for the Gold Coast.
While this isn't going to be the most thrilling match of the weekend, there's still something about these two teams going at it that makes me want to watch.
I think it's probably because they both should be doing better, and will have to fight it out to get away from the wooden spoon.
TIP: Knights 1-12
Panthers V Roosters  – BlueBet Stadium – 21.55NZT
We're not used to seeing the Roosters outside of the top eight. I'm sure that really hurts this glamour club too.
Yet a match-up against the best team in the comp might just be the thing that spurs them on and sets them up for a finals run in 2022.
Penrith won't be doing them any favours, that's for sure – but you know that when the tri-colours are playing opposition of such high quality, they do their best to rise.
So I don't think that the Panthers are going to be able to walk over Easts like they have almost every other opposition this season.
Both teams have named really strong sides for this occasion. We saw the blueprint in Origin, that you have to minimise Cleary's time to rattle them.
The Roosters will be sending traffic his way all day, but I just don't think it'll be enough.
TIP: Panthers 1-12
SATURDAY: Bulldogs V Sharks  – CommBank Stadium – 17.00NZT
Two wins in a row! The Bulldogs are on cloud nine and all their dreams are coming true. They just need a few more now and they could even make the top eight.
The Sharks will be well aware of the threat Canterbury-Bankstown possess. 
We've seen enough consistency from Cronulla to know that they're good enough to win this game, I just think it'll be tougher than people think.
I reckon this Bulldogs side have found their love for rugby league again. They're enjoying themselves. You can see it in the way that they play.
They will be right up for this game against the Sharks.
Cronulla need to play smarter than the Bulldogs. Don't get sucked in to play down. Just kick the Bulldogs around and then wait for the mistakes.
TIP: Sharks 1-12
Cowboys V Broncos – QCB Stadium – 19.30NZT
Another exciting battle between these two teams!
This Cowboys side absolutely tore the Broncos to shreds last time they met, and will look to do the same again.
Leilua comes in on club debut for his 100th appearance which is only boosting North Queensland's chances further.
Adam Reynolds has been in and out a lot this year, but two weeks off will help and he needs to be there for this Brisbane side.
Things are looking up for both teams, sitting third and fifth.
The forwards battle will be interesting. Both strong and agile packs who love to get stuck in as well as cause chaos on attack. 
Not much in this one!
TIP: Cowboys 1-12
Rabbitohs V Eels – Accor Stadium – 21.30NZT
The anticipated return of Latrell Mitchell will be a beacon of hope for the remainder of this season for South Sydney.
After being absolutely pantsed by the Dragons a two weeks ago, they will have spent a lot of time fine-tuning their performance and making sure that doesn't happen again.
But it's a Parramatta side who want to continue to be in the top-four and will be ready to take whatever the Rabbitohs throw at them.
Mitchell will be wanting to make up for lost time, but Souths can't just let him do everything. That's too predictable.
This Eels side have been staunch defensively this season, and that defensive assignment on Mitchell might just do the trick to get them the win.
TIP: Eels 1-12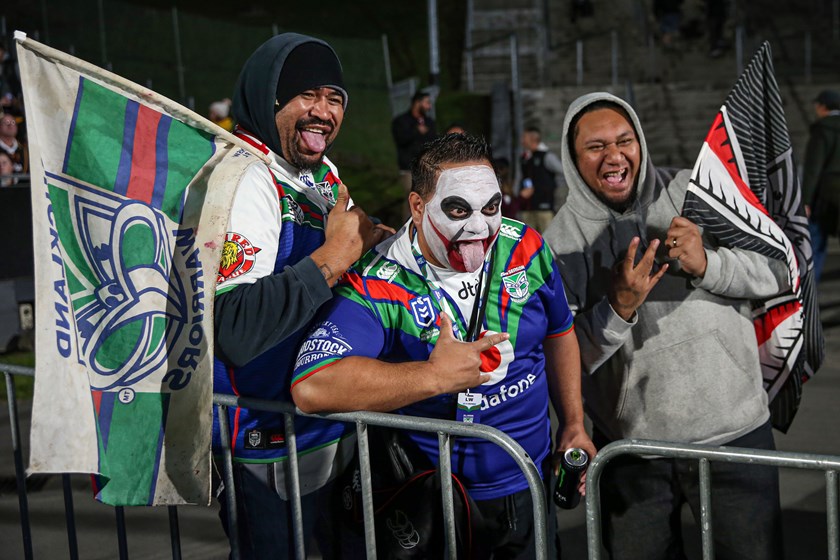 SUNDAY: Warriors V Tigers – Mount Smart Stadium – 16.00NZT
Wow. A home game at Mount Smart Stadium for the Warriors. First time since August 2019. I can only imagine what the emotions will be like when they finally run back out on home soil.
I feel sorry for the Tigers, as this is not the match you want to be playing – especially since most of them were Team Madge, and copped some fair criticism for their performance in Round 15.
The Warriors just have to win. They have to. It's not fair if they lose this. 
The charging energy will just help get them over the line, surely.
Wests will be in it early, but I think this game just means too much for the Aucklanders.
TIP: Warriors 1-12
Dragons V Raiders – WIN Stadium – 18.00NZT
Whatever that was in the first half for the Red V against the Rabbitohs…..bottle it. I don't know how, but just do it.
They sure as hell looked like Penrith out there, but the trouble for the Dragons is that they now need to back it up.
The Raiders are in a similar position to St George Illawarra on the table, so these games are crucial for a shot in the top 8.
While the Green Machine were lucky last round, they'll have to be better, especially at WIN Stadium.
There are some similarities between these two. They both play a crash-bang style of footy through the middle. They both have halves who can control the match with their kicking, and they've both got youth to inject.
Feels like the case of last try wins.
TIP: Dragons 1-12
Follow Stephen Gallagher on Twitter