NRL Round 20. The Preview
0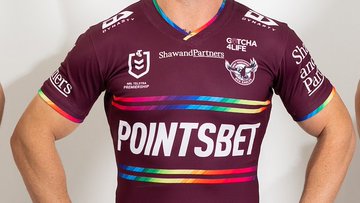 By Stephen Gallagher
THURSDAY: Sea Eagles V Roosters  – 4 Pines Park – 21.50NZT
Missing seven bigots, the Sea Eagles couldn't even name a 22 man squad for this game.
It is great to see James Segeyaro get an opportunity off the bench.
Manly will wear a great pride jersey as they take on a resurging Roosters side.
Missing seven bigots will definitely hurt Manly, but I think that the Roosters would have got them regardless.
The Sydney-siders are definitely looking to continue their run of hot form.
TIP: Roosters 13+
FRIDAY: Warriors V Storm  – Mount Smart Stadium – 20.00NZT
The Warriors play only their second home game in three years, and it happens to be against a Storm side that have now lost four on the trot.
There is a chance that the Warriors can add to their misery, but it's only a small chance.
Melbourne are lacking depth for the first time in 20 odd years, the next man up mentality that's worked for so long isn't working this year.
I reckon this game will be close, but there's still this element of class that the Storm have which will see them win the game where it counts.
TIP: Storm 1-12
Eels V Panthers  – CommBank Stadium – 21.55NZT
The only side to cop a win over the Panthers in 2022 are the Parramatta Eels.
Despite their topsy turvy form, I still think if they make the top four, they can win the comp.
They haven't exactly set the world on fire over the last six weeks, but they do have the ability to rise to this occasion.
Penrith are missing a couple of key players through injury, which does apply the slightest amount of pressure on them.
They have pretty much done everything this year to win, and another tough game will showcase just how well they can compete.
I still think that Penrith will win this one.
TIP: Panthers 1-12
SATURDAY: Titans V Raiders – CBus Super Stadium – 17.00NZT
Nahhhh, the Titans are not good this year. Sorry, Gold Coast fans.
Canberra are also looking to sneak into the top eight, so every win they get from here on in – they will be focusing on building up their points differential.
The mobility of the Raiders can cause a few headaches for the Gold Coast. The more they move them around in the middle, the easier the Raiders will be able to find some points.
We do know that the Titans can score points from anywhere on the park, so Canberra will have to be wary and sharpen up on their defensive structures.
TIP: Raiders 13+
Sharks V Rabbitohs – PointsBet Stadium – 19.30NZT
The way the Rabbitohs have looked since Latrell Mitchell returned has been ominous for opposing sides.
Cronulla did a pretty good job to contain the Panthers last week, but Penrith changed gears with 15 to go and did enough to pull up with a win.
Both of these sides should go into this game with a bit of confidence about them. 
The Rabbitohs are two points out of the top four, so these two sides could end up swapping each other out if Souths get the win.
Moylan and Hynes against Ilias and Walker is a great halves battle.
TIP: Rabbitohs 1-12
Broncos V Tigers – Suncorp Stadium – 21.30NZT
I just wanna say that I feel so bad for the Tigers after they were robbed last week. That would have been very hard to swallow.
The Broncos are hitting their straps and sit in fourth place, and coming up against a crushed Tigers side – they might just have to be wary.
It could work in the opposite way for Wests, though. All that effort last week to come up short might see them fold like a house of cards against the Broncos who have been so deadly on attack in 2022.
TIP: Broncos 13+
SUNDAY: Knights V Bulldogs – McDonald Jones Stadium – 16.00NZT
Newcastle just aren't having much luck this season. Sitting in 14th spot and have only won one in their last six games.
I like the competitive energy that Canterbury Bankstown have displayed this year. They've put the start of the season behind them, and have really gelled and put on some great performances.
They are building nicely for 2023, but they still have shit to achieve in the remainder of this season.
The Knights won't have Ponga or the remainder of the year, and their season is well and truly over, I just don't believe they have enough energy to match the Bulldogs in this one.
TIP: Bulldogs 13+
Dragons V Cowboys – Netstrata Jubilee Stadium – 18.05NZT
The Red V are still keeping their season alive, just.
North Queensland sit deservedly in second place, and they'll want to keep building up some momentum with the finals just around the corner.
Everything the Dragons do revolves around Ben Hunt. I imagine he's currently leading the Dally M votes, and if he keeps doing things only Ben Hunt can do, he will win it too.
Not sure if St George Illawarra can keep up with this North Queensland outfit, but if they can, it's going to be a very close game.
TIP: Cowboys 1-12
Follow Stephen Gallagher on Twitter