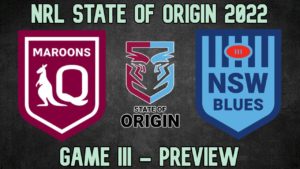 By Stephen Gallagher
All to play for in the cauldron of Suncorp Stadium. This is what Origin football is all about.
The last time New South Wales won a decider there was 2005. Cometh the hour, cometh the man.
Andrew 'Joey' Johns. After missing six weeks with a broken jaw and being a very late inclusion into game two, Johns inspired a come-from-behind series victory as the Blues romped home emphatically 32-10 that day.
That was also a bitter-sweet moment for the Cockroaches, who, in 2006 began their dreaded 8-in-a-row series loss to the greatest Origin side we will ever see.
There's only so much history that can be on your side. And the Queenslanders will know that they are currently two games into a new era under Billy Slater.
At the time of writing this, Cameron Munster, Murray Taulagi, Nicho Hynes and Jordan McLean have all had to leave camp due to either covid or injury.
The cruellest blow of all is that 30-year-old McLean was set to debut for the Blues on Wednesday and was choking back tears to the media. A true heartbreak moment.
In comes Tommy Dearden for Cameron Munster, the 18th man of the first two games, and a meteoric rise with the Cowboys after no longer being wanted mid-way through 2021 at Brisbane.
Opportunities like this are rare, but I have no doubt that Dearden will be ready for the occasion.
Veteran Corey Oates will more than likely take Taulagi's wingspot, and replacing one debutante with another, Jacob Saifiti will play – making him and brother Daniel only the 9th set of brothers to don the sky blue jerseys of Origin.
Will we see any more twists before Wednesday? There's every possibility. Covid's been back on the rise, and with it already being in both camps, we could still see something else change the narrative of this decider completely.
New South Wales, as bad as they were in game one were only six points shy of taking the win. They showed (with a plethora of changes) that they can and will put points on with an emphatic win in Perth. Ready for Origin 3? They have to be.
Queensland will probably feel the pinch of losing Cameron Munster. There's only one Munster, and Slater will be sure to let Dearden know that he just needs to play his role, and not Munster's.
The class of Ponga at the back has been a shining light of the Cane Toads this series. However, is anyone surprised when he's got the greatest Maroons fullback as his head coach?
52,000 Queenslanders will be screaming their heads off and vowing for blood come kick-off. After a skinful at The Caxton, the atmosphere will be rousing.
Brad Fitler knows that there's greatness knocking on the door. He will become only the second Blues coach to win four series if he can manage a series win over the border.
Nathan Cleary and Jarome Luai will know that they have to deliver yet again. The boys from the Blue Mountains have only lost two games all season together, and their success over the last three years is remarkable.
I could hear the deflation of the Maroons fans after the Munster news, but they are still good enough to win this series. Absolutely. Being at home is their 14th man, and will cause plenty of chaos for the Blues.
I can only imagine how loud it will be on the ground, and that's something New South Wales will have to contend with.
Queensland will not die wondering. They have such a spirit and belief about them, that's been there since Arthur Beetson first put on the jersey.
They have a side that contains players in career-best form, and players deserving of their place in the side.
Cherry-Evans, Hunt, Gagai and Papali'i offer a wealth of experience. They know what these sorts of games are like. They have the cool heads to lead by example and have the talent to change the game.
Flip the coin to New South Wales. Arguably going through their most successful Origin period ever.
Stalwarts of Tedesco, Trbojevic, Cook and Crichton. Men who know what it takes to win. Men who can rise to the highest of any occasion.
The young, raw talent of Queensland's Cobbo, Nanai, Grant and Carrigan will add so much to this team. These are players who do not fear failure.
Blues' youngsters Crichton, Burton, Talakai and To'o love to win. They don't feel the burden of the eight series losses in a row.
Of course, I want this game to be everything it should be. Every Origin fan will be wanting that. There's so much riding on the outcome of this match.
Queensland are good enough to win this. Do not doubt that. Do not write them off. Expect them to rise after their performance in Game 2. They can deliver a famous result.
New South Wales wants history. Four of the last five series could be written. A game three-decider win. It's all there at arm's length.
80 minutes of Origin football. That's all it is at the end of the day.
I'll back Apisai Koroisau to score the first try. New South Wales to scrape home by 6. 24-18.
Follow Stephen on Twitter