Sir Bob Charles: The Biography
0
By Aiden McLaughlin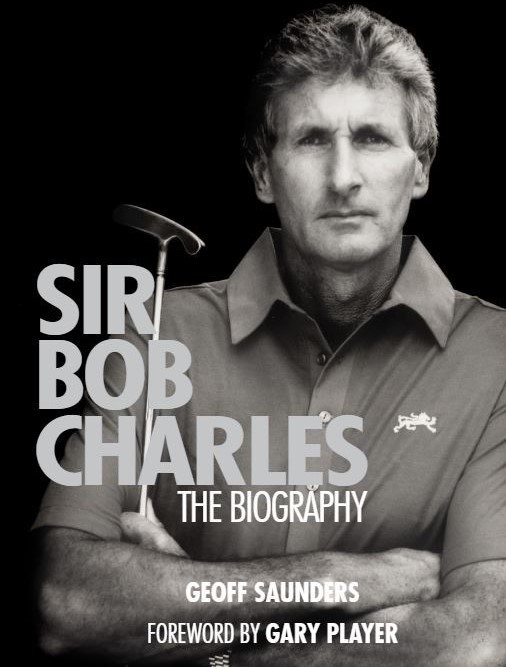 'Bob is one of the finest gentlemen I have had the privilege of knowing. He has been a phenomenal ambassador for New Zealand and for the game of golf and I cannot think of another person more deserving of a knighthood.'
Gary Player.
 The book is written by Geoff Sanders, who has known and played golf with Bob for over 40 years. Incredibly it's Geoff's first book, but it doesn't show. Over the course of 10 years, he has brought together a comprehensive account of New Zealand's greatest golfer.
Over more than 300 pages, the biography charts Bob's life and career, from his 1954 New Zealand Open success (as an 18 year old amateur) onwards. It provides a fantastic insight into the lifestyle Bob had to adopt to combine his day job as a bank clerk with National Bank with his increasingly successful golf career and his subsequent movement into the professional ranks. Much of the historical information comes from scrapbooks kept by Charles' mother Phyl from 1953 to the mid-1970s and stored today in boxes that Charles 'can hardly pick up'. There's a wealth of photos (over 160 in total) interspersed within the 22 chapters. 
Although I'm a golf fan, I knew relatively little about Sir Bob before I read this book. It's a publication that gives the reader a real feel for his journey. Upon it's recent release, Sir Bob himself said:
'The result is something I'm very proud of. I'm proud of Geoff and what he's done. It's factual, there's no make believe in there. Most of it is positive. That was one of the things I said to Geoff, I don't want any negativity, no controversy in the book. As far as that goes, my whole life I've been a positive person. It's the story of my life which was a little bit of talent and a whole lot of luck. I think you'll read into how lucky I was to achieve what I did and to enjoy a life like I have experienced.'
I don't think the book's appeal is restricted to golf fans. It's not even restricted to sports fans. It's a story of a great New Zealander. A humble, talented man with one hell of a story. 
In July 2022, Charles and his great friend Player will contest the Champions Match over four holes at St Andrews as a prelude to the Open Championship. Both men will be 86 years old but will probably be playing with the fitness and enthusiasm of people half their age or younger. That's Sir Bob though, positive, enthusiastic and doing the thing he loves for as long as he can.
Follow Aiden on Twitter