Sporting Pictures of the week :- 21 November
1
Mitchell Johnson.  Bless.  He won the ICC cricketer of the year award during the week and got a proper formal photo to celebrate.
MS Dhoni is another glamorous cricketer on the international stage.  However, he has been missing from recent ODIs due to a sore finger.  Now how did he get that then….
Even female golfers sometimes don't quite get it right.  Here's USA's Christian Kim after winning the 2014 Lorena Ochoa.  And what on earth is that trophy about?
Scotland v Ireland in a Euro 2016 qualifier last weekend.  And it was all just too exciting for someone in the crowd.
And on the field it was pretty willing too.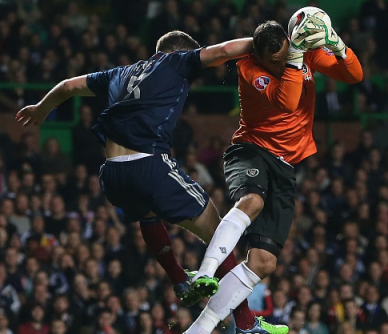 There was also a Portugal v Argentina friendly during the week which offered a photo opportunity for the world's two highest profile footballers.  Just get over guys; especially you on the left.
More from the Premier League managers in their playing days.  Everyone's favourite businessman, Arry Redknapp.