Stan – the under-appreciated man
1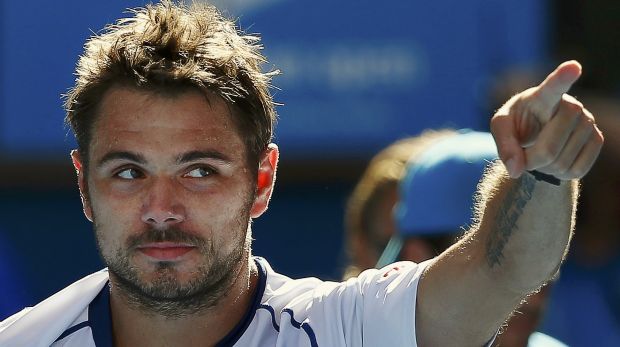 By Martin Hearnden 
Stan Wawrinka's US Open triumph was his 3rd major win in his 3rd final; this is some conversion rate. He has also won his last 11 finals in a row, which says a great deal about his mental strength, ability and a true desire, as he puts it, to simply be the best that he can. His 3 wins have all come against the reigning world number 1 and a possible win at Wimbledon will give him a career grand slam.
Stan is an unlikely looking tennis star. Amongst all the svelte, lean and super fit looking male tennis players he is a bear of a man with a barrel chest and solid legs. Yet he moves just as fluidly as most others and certainly hits with ferocious certainty. His old fashioned one-handed backhand is a thing of beauty.
There is something more than appearance that sets Stan apart from the rest. And not just his penchant for garish kit, that is hopefully forced on him by his gear sponsor. His family farm near Lausanne, a venture that assists people with intellectual disabilities and also those depression or addiction issues. He always gives the impression of someone with quiet emotional depth. No fits of pique or unnecessary displays of anger or aggression from Stan. When he speaks you get nothing but heartfelt understanding, appreciation and thanks.
Andy Murray won his 3rd grand slam title at Wimbledon this year in his 11th appearance in a slam final. The British media predictably went into a complete tail spin and were very quick to anoint him "one of the greats" putting his three titles (only) down to being part of arguably the best ever generation of male players. This is true and Murray is a fine player but not at the level of Federer, Nadal or Djokovic. Now they have to factor Stan into the discussion as well, but don't hold your breath.
Stanislas Wawrinka brings a different element to top level sport and tennis is all the richer for it. Tennis, like golf, is the most individual of sports and there are plenty of different personality types floating around. But the modern grind tends to hammer anything slightly quirky out of the person in short order. This is not the case with Stan, a genuine man with an understated gift for the game. Hopefully the tributes and acknowledgement of what he has actually achieved in the game will flow a bit more freely now.
The quote tattooed on his arm from the Irish writer Samuel Beckett bears repeating…"Ever tried. Ever failed. No Matter. Try again. Fail again. Fail better."
Follow Martin on Twitter