State of Origin 3. The Preview
0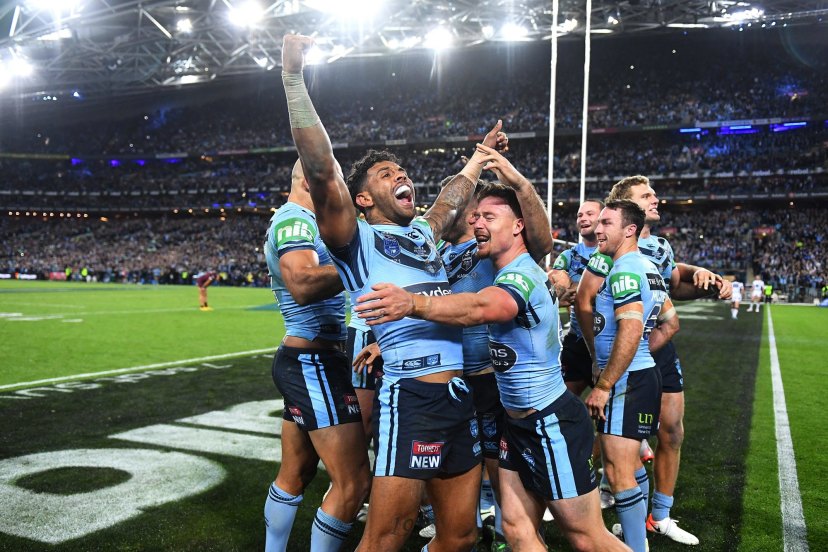 By Stephen Gallagher
The final installment of State Of Origin for 2021 is being played at Stadium Australia….Nope…Newcastle? Oh right, third times a charm….CBus Super Stadium on the Gold Coast.
With a severe covid outbreak rampant through Sydney and affecting New South Wales so much the entire NRL is moving to Queensland for the foreseeable future, it makes sense that this game heads north of the border too.
While it's a tough pill to swallow for New South Wales and their fans who won't get the opportunity to see the team hoist the shield aloft after winning the series, it'll be a significant "up yours" to Queensland if they can complete a clean sweep with all three fixtures being played in their home state.
Back to the football side of things, the Maroons have named their best side of the series, saving the best for last in a glimmer of opportunity to avoid being swept for the first time since the year 2000.
Kalyn Ponga at the back will add some significant oomph if he's firing. They're yet to have a fullback perform well in the first two games of State Of Origin this year, and that might be a good chance for their 'big three' to connect and get on the board.
Averaging only three points a game this series, they have yet to fire a shot on attack and haven't really looked like scoring either.
The debutante Hamiso Tabuai-Fidow has some raw pace which will help increase their chances if they can convert on some pressure in the red zone.
They need to outscore the Blues, there's no doubt about it. What New South Wales can do is score points at will, and from anywhere on the field which makes it very difficult to defend.
No doubts that the Queensland team know that they're staring down the barrel of history, in an unfamiliar position.
Daly Cherry-Evans and Cameron Munster have to sort out who is in charge. We've seen over the series that there seems to be too many cooks in the kitchen, and that's causing issues on attack.
On their day, they're more than capable of picking defences apart.
The lack of metres through the middle has also been a disappointing difference for the Cane Toads. They just haven't been able to bend the Cockroaches line often, or at all. Welch, Papalii, Fotuaika and Fa'asuamaleaui have a big task for them to try and cut through and build a platform for attack.
I'd like to see Brimson come off the bench in a roaming, loose forward role. Just getting in and around the ruck and being an extra "attacker" on the field will help boost momentum for Queensland. His role as a rake in game one wasn't effective at all, that's not going to get the best out of him if it happens again in game three.
Queensland still have a talented side, and with a disappointing campaign in 2021, they will want to do their bit to finish on a high. They might not win, but at least being competitive would make a massive difference for them. A boost in ego.
New South Wales have done almost everything right as they secured the series after game two.
A stonewall defence has been an underrated and underappreciated aspect of their attributes that greatly contributed to their success.
Stoic in what they've achieved defending their line, it's the counter attack and easy metres on the edge that we've seen in transition which has made them look ominous.
Mitchell and Trbojevic have probably been the most dangerous centre pairing in Origin history this series, as they've actively gone looking for the ball and made their mark accordingly.
Two big blokes that are gifted in speed and ability, they are hard to defend at the best of times, and will want to continue that into this fixture.
With Cleary and Luai ruled out through injury, a brand new halves pairing of Jack Wighton and Mitchell Moses, who is on debut, shows that the Blues have an eye on the future too.
Wighton's done well off the bench, but getting a chance to shine in the 6 jersey for his state may see him grow another arm and leg.
With plenty of opinions on the selection of Moses, the public should trust what Brad Fittler is doing and that he's got the right person for the job.
Api Koroisau off the bench on debut for New South Wales is another exciting prospect for New South Wales to unearth. Sitting patiently at 18th man for games one and two, Koroisau will be ready to rip in and do what he does best.
His sniping runs and strong tackling will be a nice addition when he comes on against a tiring Queensland pack.
Dale Finucane also plays his first game for the series, and being named as vice captain shows just how much this player is respected amongst his peers.
He's never taken a backwards step in his life, and will no doubt want to contribute in a positive way for his side as they look to win the third and final game of the series.
Queensland will be better, and will be more competitive, I feel like that's a given. I can't see them lying down and getting thrashed for a third consecutive game. That's unheard of.
Their slow starts have hindered them, so they will want to get off to a nice early start. A strong kicking game and turning the Blues around will definitely help. They have the pace and the players to score points, but they just need to build some pressure first and allow themselves to be patient on attack.
New South Wales will want to finish what they started. Scoring 76 points across two games, they'll be wanting early ball to the edges and let them do what they do well. Intimidate the defence, keep their opposition guessing, and create opportunities outside to score points.
A formidable forward pack, they've really got it all, the Blues.
I'm backing Tariq Sims as first try scorer, and New South Wales to win 34-16.
Follow Stephen Gallagher on Twitter