The Tokyo Diaries Preview – Part 3 of 6
0
By Keith Miller
Cycling – Track  
Compulsory viewing at any Olympics, and this time the Madison makes a return so the event has expanded from 10 Golds on offer to 12.   Southwest of Tokyo, the Izu Velodrome was built in 2011 and is being used to avoid the cost of building a new centre for the Games.  Track cycling could be considered a bit of a lottery in the current environment., but some like British Olympian Laura Kenny has high expectations placed upon her.  Being so late in the schedule has an advantage – by the time track cycling appears, the Games should be at fever pitch.  Or as close as it's going to get.
The velodrome is in business for the last 7 days of the Olympics, with medals dished out on each of those days.  Perfect viewing here, from 6.30pm to 10.15pm each day but be warned – the last day is a 1pm start.
Diving
Spread across 13 days of the event, Diving is a seriously underrated watch (and not just for the "uh-oh" moments).   A sharp, punchy schedule means that you can watch most of the diving without a great deal of interruption from other events, with session lengths ranging from one to two and a half hours.  A combination of poise, timing and courage always makes for a great watch, whether it be from the platform or the springboard.  Look for the Chinese to dominate again – they won 7 out of the 8 Gold Medals in Rio.
Fantastic viewing times here, with the early sessions on at 1pm – 2.40pm, and the afternoon sessions from 6pm to 8.30pm.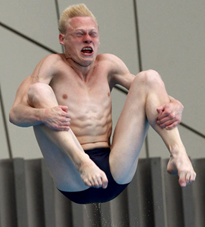 Equestrian
Look, I'm not here to make enemies, but I'd rather scoop my eyes out with a blunt spoon than watch equestrian events – it just isn't my (hay) bag.  If you are looking for something constructive from me, the most interesting thing I could find is that pretty much all the events are held in an evening/night session.  Has that happened before at other Olympics?  I'll be brutally honest – I have no idea.  I guess you could always tune in to see how Bruce's daughter goes.
Most sessions (including medals) will be live from 10pm through to 1.45pm (with a couple of day shifts thrown in for good measure earlier on in the schedule).
Fencing
It has been 45 years since Boris Onishchenko came up with one of the most celebrated cases of cheating at the Olympics, which did seem to tarnish the sport for some time.  However, this is another sport that has benefitted from the advancements in visual technology, and it has now become a bit of a sleeper hit.  You may not know your foil from your epee, or even your Musketeer from your Mouseketeer – but one thing is certain, Fencing has become a very watchable Olympic sport.  Little wonder it has been present at every Modern Olympics since 1896.
Nine days of action, every one of them with a Gold Medal event.    Great viewing times on offer here – two sessions each day, from 1pm to 6.20pm and 9.30pm to 11:40pm.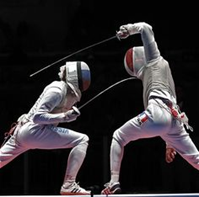 Football
Hot on the heels of Euro 2021 comes the Olympics.  The age group trophy.  Kind of.  Well, like it or not, for financial reasons it is here to stay, although this event pales into insignificance when put up against the real pinnacle/s of the sport.  Perhaps the most interest here is whether the South American dominance  will continue in the men's version, and whether one of the USA women will pull off a Hope Solo style tantrum.
Like Baseball, this sport kicks off prior to the Olympics proper.  13 days of competition, with games kicking off across the evening here.  Keep an eye out for the timing of the Women's Gold medal match though – for some strange reason, that is a 2pm start on a Friday.
Golf
Wonder if the men will turn up this year?
If this is your go, you are in.  Each round tees off at 10.30am, going through until around 7pm here.
Handball
I have never been able to understand the lack of interest here for Handball.  Back in 2016 I mentioned that it is one of those sports you only get to see at the Olympics, which is largely true down this way.  That's sad, as it is a fast-paced, powerful and athletic watch, and not immune to a bit of elbowing as well.  For me, this has always been a must watch (when it gets airtime).  Once again, it will be dominated by the European contingent.
Brilliant viewing – pool play games kick off at noon, 5.15pm and 10.30pm here.  The Golds are settled over the weekend too.
Hockey
From a purely New Zealand perspective, the Men's tournament is always remembered for Olympic highs in 1976, and THAT heart breaking moment in Rio.  For the Women, it's more the gutsy, yet ultimately disappointing Bronze medal match in Rio.   Whilst you can expect the usual suspects to feature strongly, the beauty of both competitions is that they are far from a foregone conclusion and the event should throw up plenty of surprises – particularly when there are few yardsticks to go by based on recent competition.
In essence, there are morning games (12.30pm to 4.45pm) and evening sessions from 9.30pm through to 1.45am.  Both gold medal games are 10pm kick off here.
And whilst we are talking hockey, get your hands on a copy of Striking Gold by Suzanne McFadden – a magnificent read.
Follow Keith on Twitter.
You can find more on the Tokyo Diaries, here.