Superbowl Preview: Sportsfreak Roundtable
0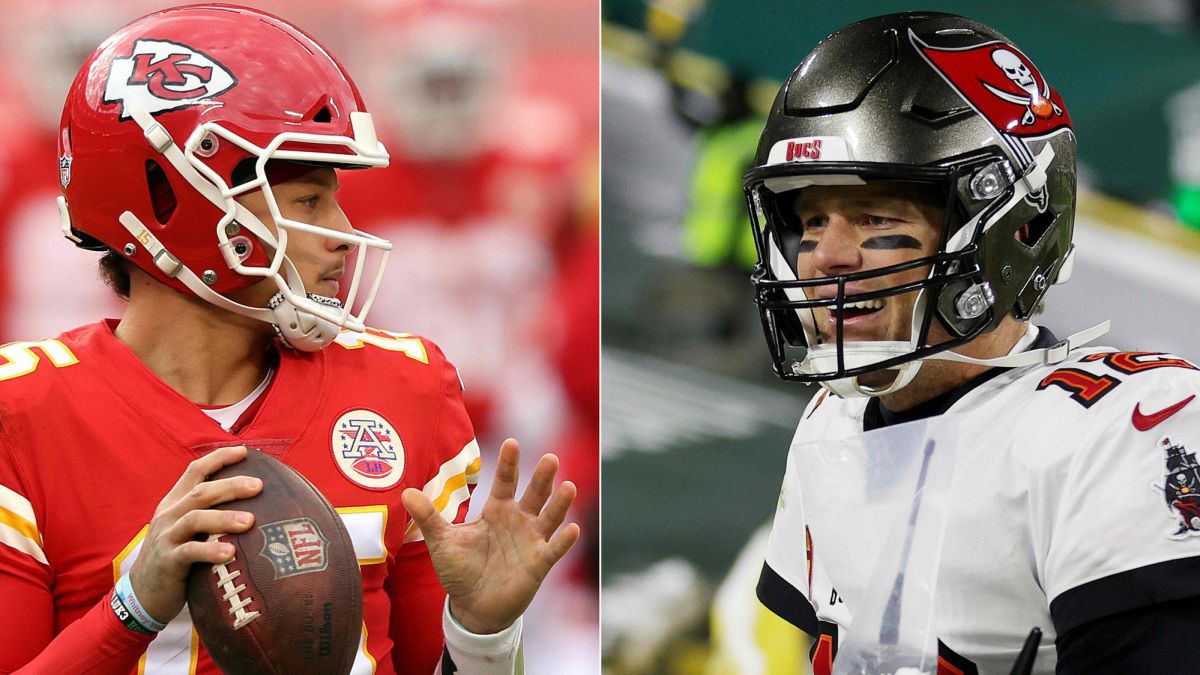 By Ryan Nixon, Scott MacLean, Hamish Girvan and Stephen Gallagher
The 2020 NFL season has been a unique one, thrown into disarray like much of the sporting world through the impact of COVID-19. A nearly seamless draft conducted entirely by virtual means showcased the NFL's ability to adapt to the new-found reality, before they managed to get through the entire season with only the odd coronavirus related blip. So somehow, defying what logic might have suggested plausible, and still playing predominantly in front of empty stadium seats, the NFL has made it to Superbowl LV on schedule.
It's a Superbowl matchup dreamt up in a Hollywood script writer's meeting. On one side, it's the aging veteran and arguably greatest quarterback of all time Tom Brady, appearing in his 10th Superbowl and looking for a seventh winner's ring, despite this being his first season with the Tampa Bay Buccaneers. On the other, it's the likely heir to his throne in Patrick Mahomes. In just his third season as a full-time starter, Mahomes is on his way to his second Superbowl and has a chance to defend the title that the Kansas City Chiefs won last year. To add a little extra spice, it was Brady's New England Patriots who denied Mahomes a Superbowl trip in 2018, with the Patriots winning an overtime thriller. Oh, and it's IN Tampa Bay, with the Buccaneers becoming the first team ever to appear in a Superbowl (where the venue is predetermined) in their home stadium
To preview the big game, we had four of the Sportsfreak team answer a series of questions. Hamish Girvan (Chiefs) and Stephen Gallagher (Buccaneers) help us with the non-partisan views, while Scott Maclean (49ers) and Ryan Nixon (Falcons) give us the slightly more neutral perspectives.
Which Superbowl narrative will be most fun to follow?
HG: The Brady vs Mahomes comparisons. The Master versus The Apprentice. The GOAT vs the Future GOAT. The statistics etc at the stage of Brady's career versus Mahomes' short career so far. This could also become very boring. Brady has appeared in 18% of total Superbowls ever played and has played 48% of them since he was drafted. How crazy is that? Although, you can probably also see how tiresome it can get too…
As Brittany Matthews – Patrick  Mahomes fiancée tweeted:

SG: I think whether we're talking Chiefs going back to back, or Brady getting it done with Tampa Bay, there's plenty of excitement in these stories.
I like the Tampa Tom narrative, however.
Tom's signing in March was pretty much out of the blue, and to come to a franchise with such a lack of success helps make what he's done this year remarkable. His pulling power is second to none, helping attract others to Tampa Bay and make something special happen, which has been awesome to witness.
SM: It's the obvious one; the Golden Boy vs the Old Man – Patrick Mahomes vs Tom Brady. Mahomes helms the defending champions, and Brady has more Super Bowl appearances and rings than anyone else. Mahomes was a first-round draft pick, Brady famously went 199th. Mahomes is the son of a former Major League baseball pitcher, Brady was actually drafted by an MLB team (the-then Montreal Expos). Brady holds almost all of the NFL passing records, Mahomes might when he's done.
Will Super Bowl LV see Brady defy Father Time once again, or will Mahomes grab the torch?
RN: While the obvious narrative is the potential passing of the torch from Brady to Mahomes, there's also a narrative of what the Chiefs franchise might become should they win back to back titles. Mahomes is the centrepiece of their franchise, alongside the brilliant coaching of Andy Reid and offensive coordinator Eric Bienemy. They're loaded with offensive talent and if they're able to manage their cap effectively given Mahomes' gargantuan 10 year, $503 million extension, then the Chiefs could be perennial contenders for the next decade. There's something very Brady and the Patriots about that in itself.
What must the Chiefs do to win?
HG: Get the ball into Mahomes' hands as much as possible. This is the 2018 AFC Championship revenge game for the Chiefs. In that one overtime and a lost coin toss never gave Mahomes the opportunity to win the game against Brady's Patriots. With the offensive players he has around him and his uncanny ability to get the ball into their hands, opposition teams have to score 30 points or more to have a chance of winning. JUST GIVE HIM THE BALL!
SG: Outsmart Tampa Bay's defence. They have been on point in their three playoff wins, and for the majority of the regular season. Devin White, Antonie Winfield Jr, Ndamukong Suh, Vita Vea, and Shaq Barrett have led this defence in a major way. Every time they get a takeaway, it seems to turn to points. Patrick Mahomes is going to be a future hall of famer, and his vision and power are not to be underestimated. If he avoids pressure and turnovers, the Chiefs win.
SM: Stick to what they know best. That means letting offensive coordinator Eric Bienemy scheme, Mahomes create, and tight end Travis Kelce and their corps of speedy receivers led by Tyreek Hill make plays. The Chiefs had the #1 offense in the NFL, and it has to be the unit that carries them to a repeat championship. Their biggest challenge will be establishing the running game as an option to base their play-action off though, with Tampa having the top defence against the run.
RN: Quite simply, they have to avoid mistakes. Tyreek Hill torched the Bucs secondary to the tune of 269 yards in week 12 of this season; a game they controlled until Brady rallied the Bucs late to get them within three points. If Mahomes avoids turnovers and can find Hill and tight end Travis Kelce consistently, it's hard to see how the Bucs can keep pace offensively, even with Brady.
What must the Buccaneers do to win?
HG: Get the ball out of Mahomes hands as much as possible. If the Tampa defence can pressure both Mahomes and the Chiefs' injury hit offensive line they will more than likely get the W. The Chiefs' run game is both average and easily stopped. On the other side of the ball Brady is the master at long drives, that take time off the clock and usually end up in points. The targets Brady has in Mike Evans and Chris Godwin are physically bigger and possess real strength over speed. The Chiefs corners will need to be at the top of their game to stop any momentum they get.
SG: Let Tom Brady be Tom Brady. This guy is the GOAT of all GOATs, and this is his tenth trip to the Superbowl in 20 seasons. Remarkable. It seems like Bruce Arians is letting this happen, and it shows.
SM: Play defence against the pass. No team in the NFL had more yards in the air than the Chiefs, and only Seattle had the ball thrown against them more than Tampa did. The Bucs no-name group of cornerbacks (though Sean Murphy-Bunting is making one for himself in these playoffs) have been their weak link, and against Mahomes, Hill, and Kelce that is just asking for trouble. They'll need rookie free safety Antoine Winfield Jr – who missed the NFC title match – to have a big game, and their front seven which includes veterans Jason Pierre-Paul, Ndamukong Suh, Shaquil Barrett, and mammoth nose tackle Vita Vea need to get to Mahomes early and often.
RN: Get to Mahomes. The Chiefs will be without starting tackle Eric Fisher after he suffered an Achilles injury in the AFC Championship game, while the Bucs front seven have been in tremendous form pressuring Aaron Rodgers and Drew Brees into errors through the playoffs. If they can put Mahomes under pressure and force similar kinds of mistakes, while also nullifying the deep threat of Hill and Mecole Hardman, then they'll have every chance of turning this into a game that Brady can control.
The halftime show is The Weekend. On a scale of 1-10, how much does this interest you?
HG: 1. The Weekend is all about Superbowl so not sure what this means?! To be honest how will the halftime show even work in a COVID world. Is it like a remote music video?
SG: Probably like a 4? I am a millennial, I know his music, I like his music – House Of Balloons is a BRILLIANT album…..
But also, the half time show is a chance for me to get up off the couch, use the bathrooms, and get ready for the second half of what I hope will be a great Superbowl!
SM: 3. The bloke is an entertainer, but I'd settle for more of Shakira and her tongue from last year.
RN: 6. I love The Weeknd, but I'm not convinced he's earned the necessary reputation to put on a memorable halftime show like we've seen from bigger names in the past. This has "enjoyable, but forgettable" written all over it.
Which player will be the star of the show?
HG: The easiest answer is one of the quarterbacks however there is an option of Tyreek (the Cheetah) Hill getting that award too. His speed is so quick and he's the NFL's version of Roadrunner. It was Hill that took the seminal catch that changed a potential Superbowl win for the San Francisco 49ers last year. He's a definite game winner.
SG: From what I've seen this year from Ronald Jones II, he has the potential to be the next biggest running back Superstar in this game. Having support from Leonard Fournette as well – the competition to be better and do better every week has shown plenty of promise.
Jones hasn't had a strong post-season with the Buccaneers, but I believe that on his day, he can really run amuck and cause plenty of problems for Kansas City.
SM: There's plenty of obvious contenders, but I'm going with Hill, who'll be the fastest bloke on the field. He'll torch his cover, catch some big passes, and join the short list of wide receivers who've won the Super Bowl MVP Award.
RN: Travis Kelce. It's been a phenomenal year for the big number 87, becoming the first tight end in history to surpass 1,400 receiving yards in a season and finishing 2nd in the NFL in receiving yards despite that statistic normally being dominated by wide receivers. With the Bucs secondary desperate to slow Tyreek Hill after his performance earlier in the season, Mahomes will go to Kelce often – as he did in the AFC Championship game against the Bills. There Kelce had 13 catches for 118 yards and a pair of scores, numbers that I think he can replicate in the Superbowl.
Who wins and by how many?
HG: The official line is Chiefs by 3 points. This is the most common line in the NFL and also the most commonest winning margin.  Home teams usually get the advantage and it's Tampa who are at home here people! The bookies rarely get it wrong, but I'll go Chiefs 35-30. You need to score more than 30 to get anywhere near beating Kansas City these days, so a Chiefs dynasty will begin.
SG: Tampa Bay to get it done, and just. I'm looking at seeing this game play out to a 35-31 victory to the Bucs. They'll create history being the only team to play in and win a home Superbowl – that'll be remarkable for the fans in Tampa to witness. Plus, they'll relish their first title since 2002, when John Gruden coached them to an emphatic victory over the Raiders.
SM: Chiefs become the first team to win back-to-back Super Bowls since New England (quarterbacked by you-know-who) in 2004-2005, with Mahomes throwing a late touchdown pass for a seven-point winning margin.
RN: I think Mahomes not only takes the torch from Brady, but he runs with it too as the Chiefs offense proves too hard to contain. Chiefs by 10 in a high scoring contest.
Follow Ryan , Hamish .  Scott and Stephen Gallagher on Twitter