The Stunner in Shizuoka
1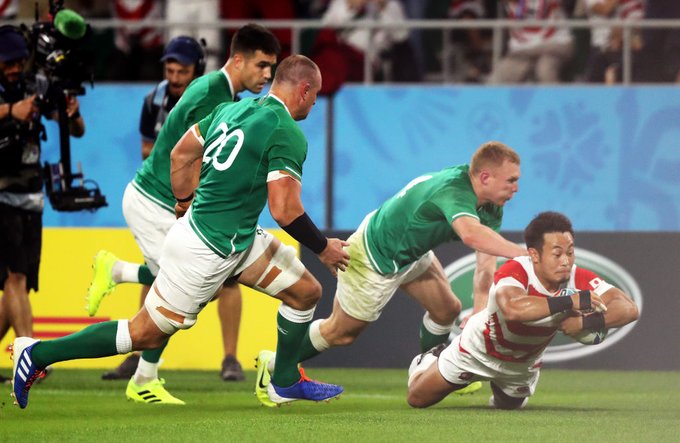 By Aiden McLaughlin
'We've been thinking about this game for quite a long time, obviously Ireland have only been sort of thinking about it for the last six or seven days'
Jamie Joseph's words following Japan's upset win over Ireland last night.
By saying that, I don't think Jamie has given Ireland or his own team enough credit. Joe Schmidt is well known for his attention to detail and he would have been looking at this game for a lot longer than the last week. He will have been well aware it was a potential banana skin because of the respect he has for Jamie, his coaching team and squad, and would have planned accordingly. Because of that, Japan's performance and the victory was even more impressive. The stakes for Ireland were high, make no mistake; win and topping the pool was all but guaranteed, and with that a quarter final against South Africa. A bonus point loss means they should still make the last eight but being first in Pool A is now out of their control and firmly in Japan's as the All Blacks become more likely opponents for the men in green.
Leading 12-3 after 21 minutes, we could have been forgiven for thinking Ireland were heading towards a convincing victory, but no more points were to follow for Schmidt's team as Japan added another three penalties and a converted try.
Japan brought a huge intensity both in defence and attack; they had substantially more metres carried and passes. They made more tackles than Ireland and missed fewer. They only lost one line out on their own throw (Ireland lost two) and crucially won the penalty count 6-9. They ended the match in the ascendancy and almost scored an interception try to rub salt in the wounds late on. Under pressure, Joey Carbery invited the final whistle by kicking to touch rather than risking losing a bonus point in going for the potential try and conversion that would have earned a draw.
Earlier in the week, Uruguay's victory over Fiji presented us with the tournament's first shock. Although many of us love Fijian rugby, we couldn't help but be happy for the South Americans. But last night was on another level. The host nation, beating the World Ranked No 2 team (the All Blacks regained the top spot after beating South Africa) was the most incredible boost this tournament could have wished for.
From here, Japan play Samoa next Saturday night then Scotland in the final pool match the following Sunday. Ireland need to recover quickly to face Russia on Thursday and from there, make sure there isn't another slip up against Samoa nine days later.
Scotland still have the ability to make it a three way fight for the top two spots in the pool by winning their remaining games, although after their first outing against Ireland , that looks unlikely. But if the events of Wednesday and last night have taught us anything, it's that we shouldn't assume anything in this increasingly entertaining Rugby World Cup.
Follow Aiden on Twitter