Sporting Pictures of the week :- 14 November
1
It has not been the best of times for Dirk Nannes since he arrived in Dunedin.  Bottom of the Georgie Pie Super Smash, leading conceder of runs, and how do you get a decent read on a putt with all those white stones in the way?
Were they arrogant McCaw booing, haka disrespecting, brutes back then?  A picture to commemorate the commencement of World War I.  The England team from 1914.
A more modern day look.  No explanation required.
There is nothing like a rugby league fan and a good sign.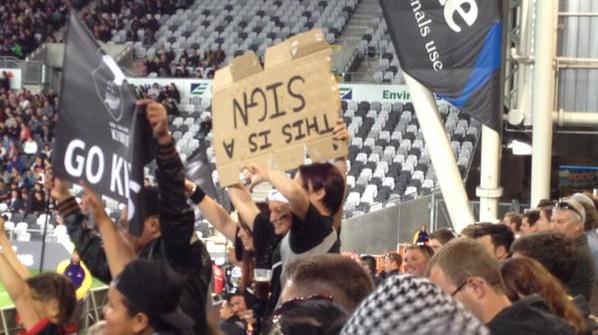 The forgotten man for the Wellington Phoenix.  Kenny Cunningham adding some acrobatics while playing for the B side.
Now for some traditional favourites.  The Oval is a cult picture at any time of year.
That Liverpool fan pic from last week went down a treat.  Here is another one.
And more from the Premier League managers in their playing days.  Look closely.  Bottom right.  The smouldering eyes of Jose Mourinho.